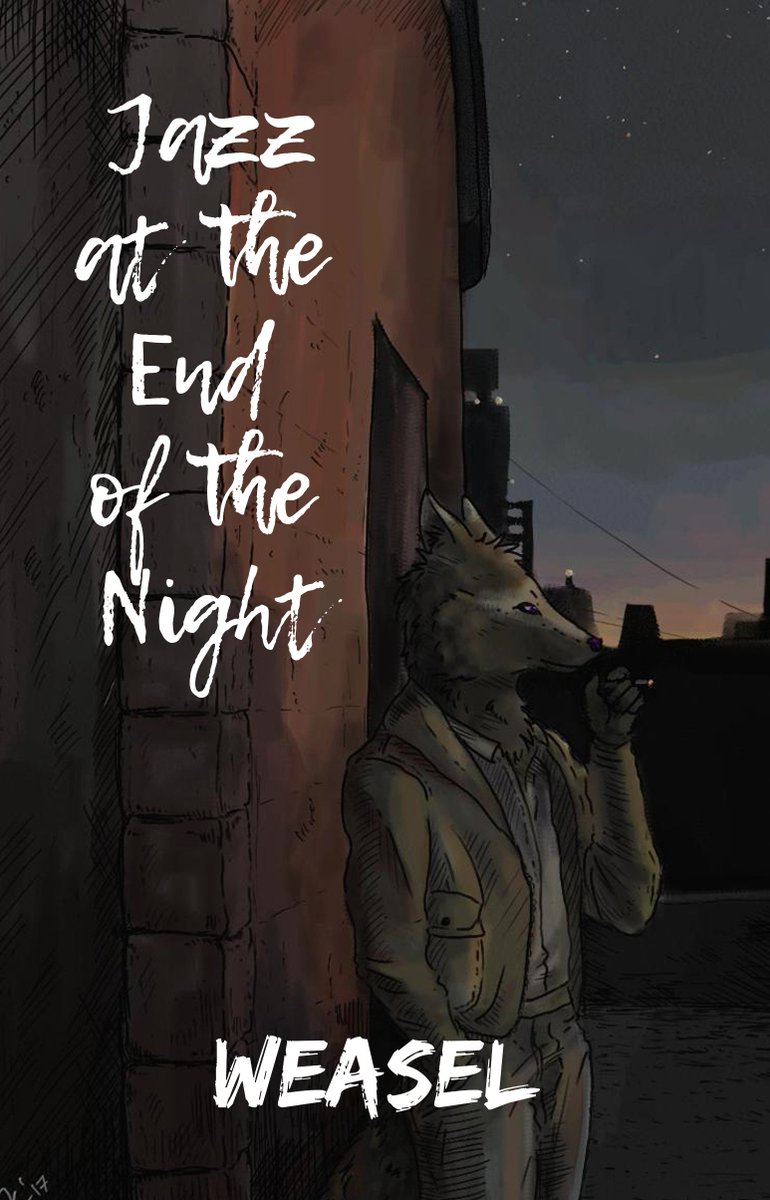 Weasel
Jazz at the End of the Night
Kartoniert, 188 Seiten, 12,95 EUR
Cover von Tabsely

Jazz at the End of the Night is a collection of short stories crawling from the caverns of hopelessness. The characters share in their hard times cursing the universe and losing everything that mattered to them. Each story throws the reader into a harsh reality of life changes, betrayal, and sometimes madness. Follow Derrick, returning from We Live for Half-Moons, still trying to find order in love yet only finding a crater of suffering as he explores life with a hot young thing he picked up at a gas station. Rick worked hard to keep him and his partner afloat. When he loses his job, he loses his whole life in an instant. Forced to sleep on the streets after his partner disappeared, he dreams of finding his love, hopefully alive. Izzy falls into a crippling depression as the bills pile and the collectors spam his phone. When his husband leaves him after frustration, the weasel lets go of everything in his life and takes off on the road, searching for happiness. Jazz at the End of the Night is a collection of hollow bridges, and it's not easy to find the pieces to fix them.
"Weasel's "Jazz at the End of the Night" is a fine collection of dark, erotic anthropological stories unearthing the inner core of human sexuality, desires and fears." - David E. Cowen.


Bill Kieffer
The Goat: Building the Perfect Victim
Kartoniert, 162 Seiten, 13,95 EUR
Cover von Viergacht
Built on a crumpling infrastructure of technology and magic, society makes a blessing of the many cursed with species dysphoria... animal souls trapped with human shells. They mold them into mages rather than monsters. Glenn is certain there's a goat inside of him but the Elder Council doesn't agree.
In a shitty marriage that plays like a broken record of abandonment and reconciliation, Frank lives in broken world. He gets by, ignoring the darkness and denying his deepest fantasies. The violence isn't as buried as he thinks it is.
And when he sees a pack of werewolves threatening a nerdy, defenseless man outside of a doughnut shop, Frank casts a few wards and rolls up his sleeve to wade into the fray.
When Glenn is rescued by his former high school bully from the ani-mages that had turned on him, he had no idea what exactly lied in store for him with Frank. But he knew one thing, if Frank couldn't beat away his humanity, no one could.
"Shock. From beginning to end. If you ever want a book to slap you in the face as hard as possible, this... this is for you." Thurston Howl, editor-in-chief of Thurston Howl Publication
Weasel (Hr.)
Passing Through
Tails from the Road
Kartoniert, 138 Seiten, 9,95 EUR
Cover von Tabsely

"Passing Through" is a collection of stories from hitchhikers and travelers alike. Cash, Grass, or Ass, open up and hitch a ride!
With stories by BanWynn Oakshadow, Frances Pauli, Tyson West, Billy Leigh, Jako Malan and Thurston Howl.
Mando and Munchkin (Hr.)
Fragments of Life's Heart
Kartoniert, 402 Seiten, 19,95 EUR
Cover von Darkomi
They say Love is the oldest story on Earth, but we don't have to tell it the same way every time. How many ways are there to explore our feelings that we may have never even considered? Countless fragments of different worlds, all held together by the greatest force of all.
Join us as we explore the many different forms of love—family love, forbidden love, love that embraces what society always taught was wrong. Seasoned veterans and brand new talents bring you seventeen anthropomorphic stories with all different forms of sexuality and relationships, in a journey across genres, worlds, and time.
Love can bloom, thrive, and end. Love can heal, mesh, and blend. We're all Fragments trying to stick together.
Contents:
Tending the Fires - Jess E Owen
Transitions - Mog Moogle
The Mistress of Tidwell Manor - Renee Carter Hall
Yet Time and Distance - Kris Carver
Polynomials - Fever Low
Raise Your Voice - Stefano "Mando" Zocchi
Going Out - T C Powell
Harvest Home - Altivo Overo
The Foreigner - Dwale
Trade All the Stars - Watts Martin
Draw to the Heart - Ocean Tigrox
Paint the Square-Cut Sky - Slip-Wolf
Hearth Soup - Laura "Munchkin" Lewis
Brass Candy Girl - M C A Hogarth
Footsteps - Televassi
Rain Check - Field T Mouse
The Soul of Wit - Daniel Lowd
Weasel (Hr.)
Knotted
A BDSM Anthology
Kartoniert, 224 Seiten, 15,95 EUR
Cover von Warm Bodies
Get entangled with darker worlds. Some of our desires are unconventional, maybe even taboo. A lot of folks out there just want a simple fuck, but others may want to indulge in something wilder. Knotted is a collection of eight anthropomorphic tales that explore this savage side. There are no baby steps here, readers are shoved into various worlds where the characters run off with what they want most. From losing control to getting restless in your search, some appetites are too addicting to let go.

Contents:
Okami to Shika by Corgi.W
Pony She Wrote by Franklin Leo
A Moment of Darkness by NightEyes DaySpring
Due by Slip-Wolf
Family Ties by Hooves
Submit by Arian Mabe
Resolutions by Khaz
The Meat Market by Kits Koriohn
Weasel (Hr.)
Typewriter Emergencies
2015 Edition
Kartoniert, 180 Seiten, 15,95 EUR
Cover von Kala "Miryhis" Quinn
Welcome to the first release of Typewriter Emergencies, a collection of psychologically damaging and hard hitting furry literature. It's a mad world we live in, a world where we are still uncovering some of the darkest of our secrets. We were asking a lot when we started our submission call. We were asking our authors to really dig the knife into their story; to give us the real maddening details, the secrets, the loss of control. And they did just that. This anthology has a total of thirteen gut-wrenching stories from several talented individuals. It's a collection that drops the reader into thirteen rough worlds without anything to protect themselves, only the leadership of the characters they're following. Each author handles a different aspect of the universe, touring the reader through some rather diverse struggles. Typewriter Emergencies is a journey not lightly made, and one that will definitely leave a deep impression on our readers. Weasel Press is proud to have our first furry collection on the books and we hope you will enjoy every moment this intense anthology has to offer.