Einzelausgaben | Reihen | Novels & Anthologies
Einzelausgaben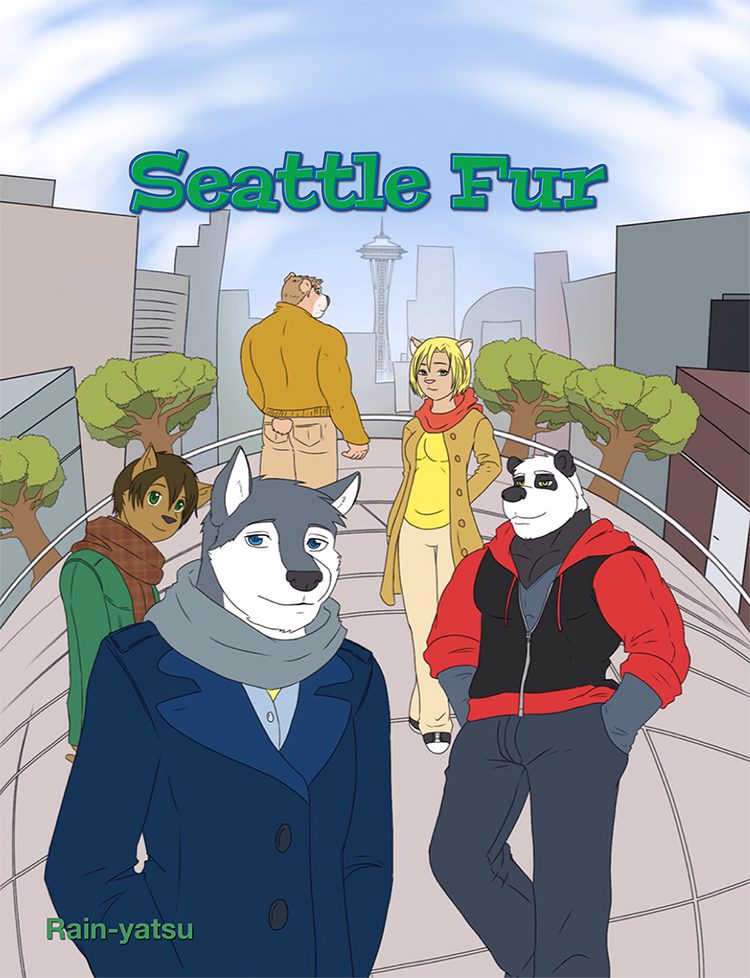 Rain-yatsu
Seattle Fur
Magazinformat, 64 Seiten, vollfarbig, 22,95 EUR

Rain is a husky with an average life. He lives in the city with his best friends Garret and Tim, has a girlfriend, and a steady job. But when Garret and Tim constantly pressure Rain into something more than friendship, his life slowly spirals out of control.
With the help of a mysterious bear, Rain will try to understand himself a little better and come to terms with the affections of his friends, or destroy everything he loves in the process.
This first collection of the Seattle Fur story by Rain-yatsu contains the first chapter of Rain's story, along with a gallery of concept and bonus art. Special thanks to Husky92 for contributing to the comic.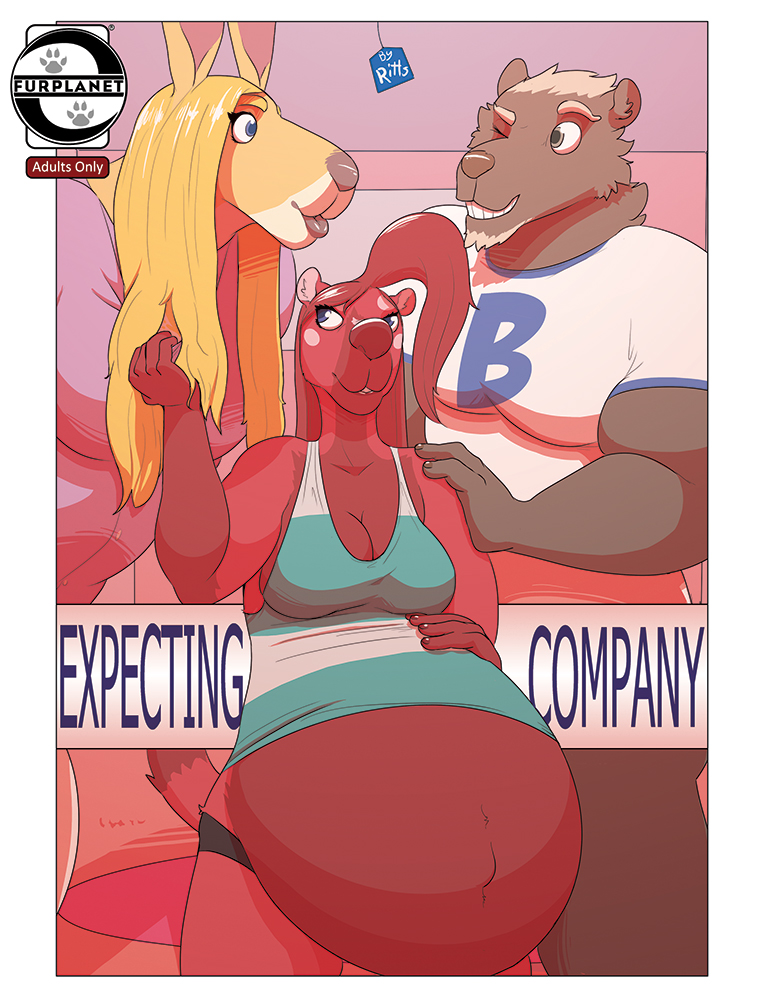 Ritts
Expecting Company
Magazinformat, 26 Seiten, vollfarbig, 11,95 EUR, Altersnachweis erforderlich
Pregnancy is already hard enough as-is, what with the heaviness and hormones. Too bad Cari has three kids on the way!
Luckily, this coati's kinky husband Will comes home with a gorgeous kangaroo gigolo to soothe some of her aches and pains.
She's EXPECTING COMPANY.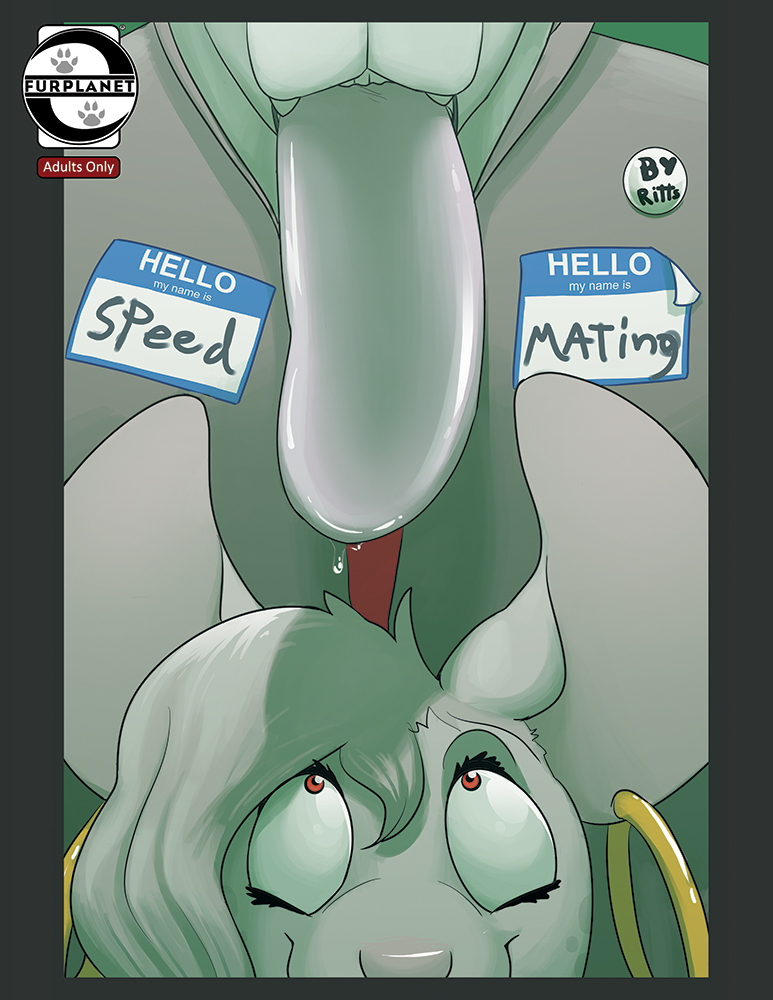 Ritts
Speed Mating
Magazinformat, 26 Seiten, vollfarbig, 11,95 EUR, Altersnachweis erforderlich
Timid rat gal Pepper gives speed dating a shot, not expecting her old flame Bailey to show up and shove her big polar bear schnoz into the evening. While others meet for the first time, these two reconcile... with tongue!
They try to make it a quickie in the back with a bit of SPEED MATING! Prepare forn som hot F/F acticon!
Ritts
Ship Tease
Magazinformat, 26 Seiten, vollfarbig, 22,95 EUR, Altersnachweis erforderlich
"Eine Schifffahrt, die ist lustig, eine Schifffahrt, die ist schön." Und für manchen auch ein dürrer Kerl im Bikini seiner (erwachsenen) Tochter. Das findet der mitreisende Ehemann zwar nicht; davon abhalten, seine "geile Frau" so richtig durchzunehmen, kann ihn das allerdings nicht. Aber wird auch der korpulente Hase sich auf das Abenteuer weibliche Bademode einlassen?
Ein hinreißendes Spiel mit Geschlechterklischees und unterschiedlichen Körperformen bietet Ritts in diesem ebenso geilen wie witzigen Comic. Gleiches gilt für die Illustrationen und Comicstrips, die den Band ergänzen.
Lovebird husbands Ethan and Alan go on an anniversary cruise, but the meerkat Ethan can't resist pushing his bunny hubby's buttons, both emotionally and sexually.
Take a seat at the pool bar and watch the old flame reignite in... SHIP TEASE.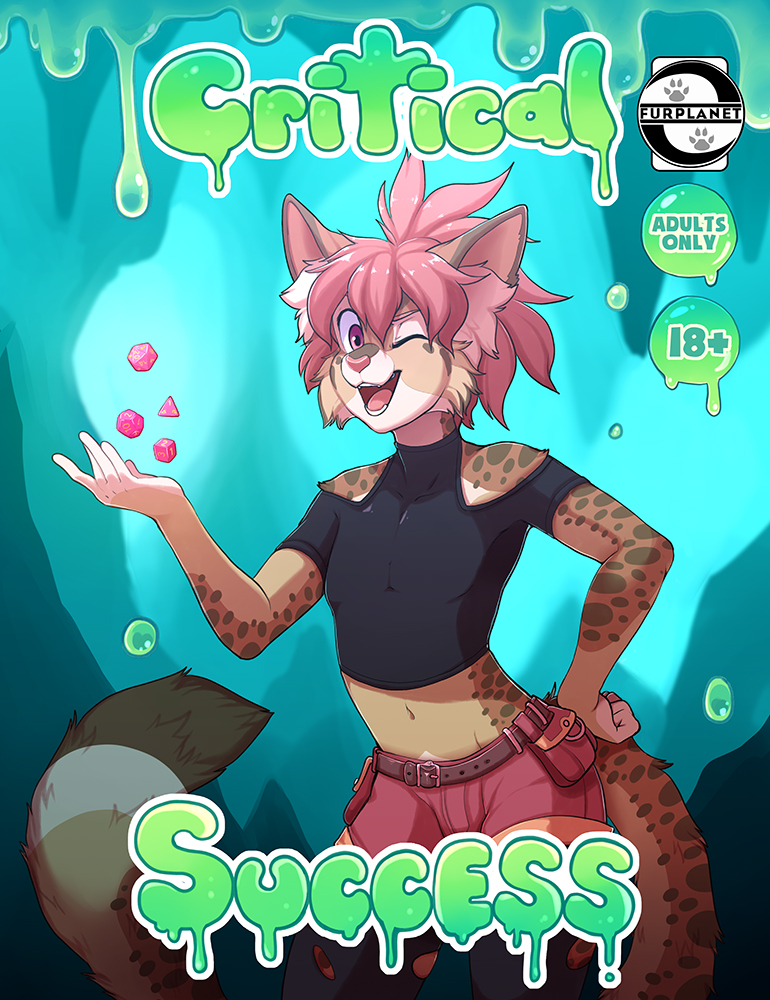 ACE
Critical Success
Magazinformat, 52 Seiten, 27,95 EUR

Terry already knew DMing a roleplay game wasn't going to be easy. Even tougher realizing that he has to teach a newbie the ropes. Especially if that newbie is Avery, who decides an encounter with a bunch of goo monsters is a chance at a 'good time'. Time to brush up on improvised weapons.
M/M/F comic, art and story by Ace
ACE
Excalibur
Magazinformat, 32 Seiten, vollfarbig, 22,95 EUR, Altersnachweis erforderlich
Pegging was never so much Fun!
Ben und Sandra, das Pärchen aus "Table for Three", erkunden die bisexuelle Seite von Ben weiter. Unter Zuhilfenahme eines lilafarbenen Strap-on-Dildos names Excalibur, von reichlich Gleitcreme und "königlichen Anspielungen" verliert der junge Fuchs seine anale Unschuld.
Farbenfroh, ehrlich und geil ist "Excalibur". Wie schon im ersten Comic von ACE bestechen die Zeichnungen durch ihre Klarheit, die Figuren durch ihre Natürlichkeit und der Sex durch seine Verspieltheit. Ergänzt wird der Comic wieder durch drei Illustrationen.
Ace
Table for Three
Kartoniert, 36 Seiten, vollfarbig, 22,95 EUR, Altersnachweis erforderlich
Mehr als das originale Werbezitat "Es ist Bens Geburtstag und Sandra hat eine ganz besondere Überraschung für ihn in Petto. Sein Name ist Avery!" lässt sich inhaltlich kaum über "Table for Three" schreiben. Aber so einfach die Geschichte, so durchdacht, humorvoll und geil ist die Umsetzung dieses Bi-Szenarios. Das Cover ist wunderbar irreführend, gleichgeschlechtlich wird "vorbildlich" mit Kondom gefickt und die Charaktere sind sympathisch und lebensnah geschildert. Steckbriefe und drei Illustrationen verleihen ihnen zudem weitere Tiefe.
It's Ben's birthday, and Sandra has a very special surprise in store for him. His name's Avery.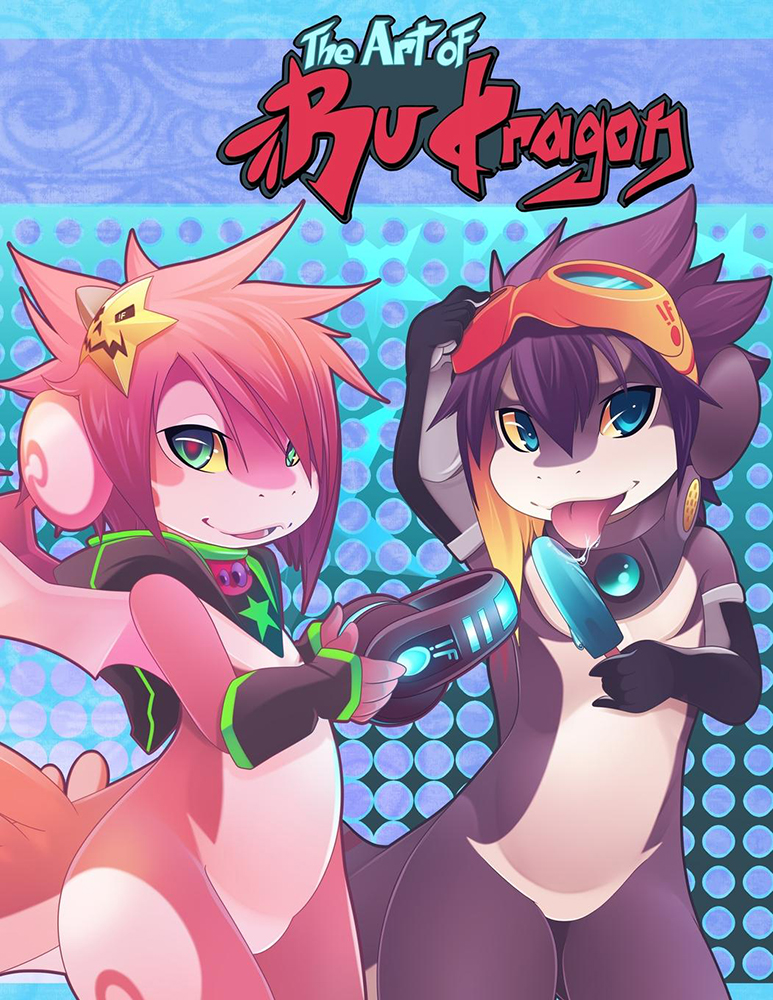 RuDragon
The Art of Rudragon
Kartoniert, Überformat, 120 Seiten, vollfarbig, 39,95 EUR

Rudragon's first art book, collecting works from 2012 – 2015. Includes the comic "Ru's Gift".
Flip through: https://www.youtube.com/watch?v=_C2ON41Gb3c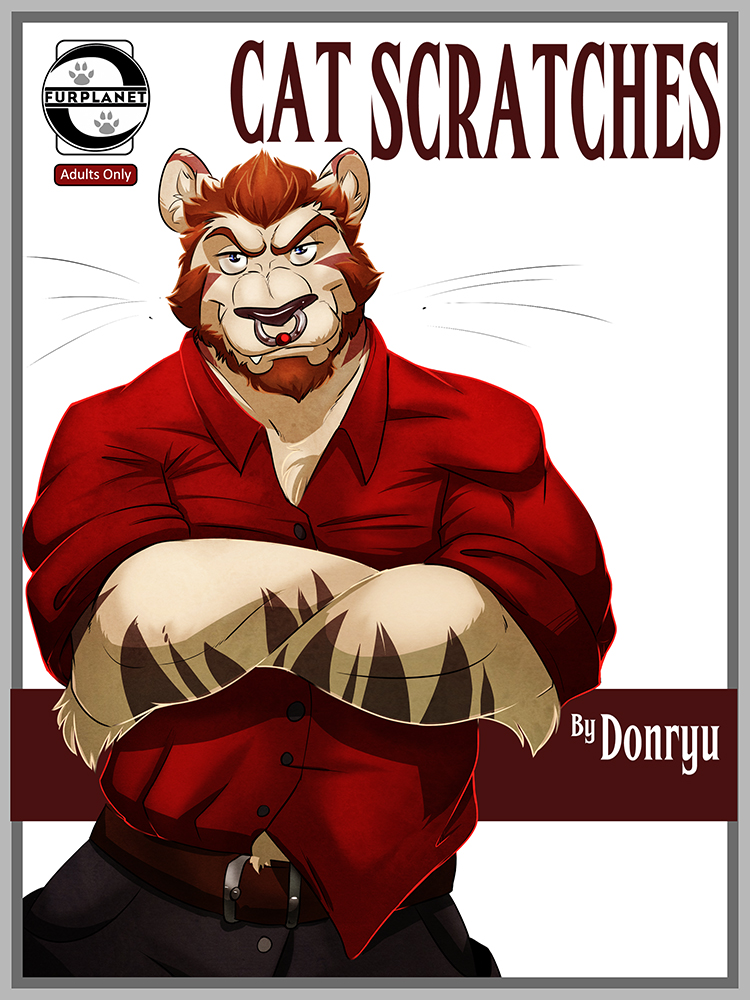 Donryu
Rat Pack
Magazinformat, 84 Seiten, vollfarbig, 27,95 EUR, Altersnachweis erforderlich
Donryu's second art collection, "Cat Scratches" includes Over 80 pages of various illustrations from commissions to personal illustrations from 2013-2015, and every page involves a peek into his creative process.
Donryu
Rat Pack
Magazinformat, 60 Seiten, vollfarbig, 27,95 EUR, Altersnachweis erforderlich
Wer mag muskulöse, rauchende, sexuell ausgehungerte Ratten? Na, auf jeden Fall Donryu. Selbst zwar ein weißer Tiger, zeichnet er mit Vorliebe Ratten. Und hat ihnen jetzt ein ganzes Artbook gewidmet. Bestehend aus dem 15-seitigen (textlosen) Comic RAT PROBLEMS, Comissions und Sketches sowie exklusiv für diesen Band entstanden Illustrationen. Ratten über Ratten. Eine geiler als die andere. Alleine, zu zweit oder in Gruppen. Und mittendrin immer wieder Donryu selbst.
"Rat Pack" collects 56 pages of assorted rats drawn by the artist Donryu. This full color collection includes the 15 page comic, "Rat Problems".
Vasuki
Stoatally Art Volume 1
Magazinformat, 90 Seiten, vollfarbig, 27,95 EUR
Enter the Vasukiverse!
A cute, colorful world of fantasy ferrets and handsome hunks await you!
This compilation of furry art has a bit of everything from jock raccoons to sultry shiba inus in a comprehensive collection of art from 2013 and 2014.

What's inside:
Loads of sketches
Exclusive art
Concise character and design info
Gazpacho
Tanuki Tactics Volume 2
Magazinformat, 122 Seiten, vollfarbig, 27,95 EUR, Altersnachweis erforderlich
Gazpacho ist zurück und so manches hat sich geändert - in seinem Leben, an seiner Fursona und an seinem Zeichenstil. An all diesen Veränderungen lässt der spanischstämmige Künstler uns teilhaben in seinem zweiten Artbook, das alle Arbeiten seit 2012 enthält. Super-cute und super-sexy sind Charaktere und Zeichnungen. Saftige Sexszenen, Chibis und Headshots Seite an Seite. So kennen und lieben wir Gazpacho.
The second art book from the furry artist Gazpacho, Tanuki Tactics Volume 2 is a broad history of his work.
Tanuki Tactics
Kartoniert (Großformat), 106 Seiten, vollfarbig, 27,95 EUR, Altersnachweis erforderlich
Anders als Nickname und Zeichenstill erahnen lassen, kommt Gazpacho weder aus Spanien noch aus Japan. Wie er dazu kam, Tanuki (japanische Marderhunde) zu zeichnen, beschreibt er in diesem Artbook. Auch geht er auf die Entwicklung seines Stils und seine unterschiedlichen Projekte ein. Kurz und prägnant, lässt er dabei viel Raum für seine Bilder. Und die sind wirklich atemberaubend. Von niedlich bis strunz-geil zeichnet er seine meist pummeligen Charaktere. Eigene Schöpfungen und Charas aus dem Fandom (FA-Nicks sind am Ende des Artbooks verzeichnet) mit süßen Bäuchen und harten Schwänzen. Nicht nur Porn, aber mehr als die Beispielseiten erahnen lassen findet sich in diesem wunderschönen Band.
Um einen Eindruck vom Inhalt zu bekommen, auf die rechte Abbildung klicken: Es öffnet sich ein Pop-up-Fenster.
Tomwolf
The Seventh Day
Heftformat, 54 Seiten, s/w, 9,95 EUR
Hunter überlebt einen Selbstmordversuch, nur um zu erfahren, dass er nur noch sechs Tage zu leben hat. Begleitet wird er in dieser Zeit vom Krankenpfleger Joseph. Doch Joseph hat seine ganz eigenen Probleme...
Ein virtuoses Kammerspiel voller Grenzerfahrungen, menschlicher Abgründe und Popkulturzitaten.
"I have this dream I'm in a clearing with a great white horse.
I know it's the end of time, the sky is falling around us.
I have no more fight in me, so I close my eyes.
Then I'm falling, falling forever and right before I hit the ground I open my eyes."
Vagabonda
World of Amazon Hunters
Magazinformat, 74 Seiten, vollfarbig, 27,95 EUR, Altersnachweis erforderlich
Contains 60 High quality illustrations drawn especially for this project. Most pieces are Female solo or Female/Female in nature. Includes two comics.
Art by Vagabonda, Wildering and Orphen-Sirius plus guest art.
Artist Edition hier erhältlich.
Clamcrusher
Boys In and Out of Briefs
Magazinformat, 74 Seiten, vollfarbig, 27,95 EUR, Altersnachweis erforderlich
A collection of Clamcrusher's pin-ups over the past couple years (and some older things in there too) - Clamcrusher's first printed volume of artwork.
Scappo

Backtrack Vol. 4
Magazinformat, 94 Seiten, vollfarbig, 27,95 EUR, Altersnachweis erforderlich
The fourth collection of Scappo's illustrations, covering selected material from 2014 to 2015.
Includes the M/F comic "Naughty and Nice", commission stream images, and a series of pin-ups.
Volume 4 of BACKTRACK includes both male and female images.
Backtrack Vol. 1 - 3 sind ebenfalls bei uns erhältich (22,95 - 32,95 EUR).
Tsampikos
Tsampikos Folio 2015
Magazinformat, 70 Seiten, vollfarbig, 27,95 EUR
Tsampikos is back with a selection of works created throughout 2015. This folio includes the 10-page comic "Cottonwood Springs" part 1 plus lots of sexy, playful pin-ups.
Tsampikos Folio Vol 1 - 4 sind ebenfalls bei uns erhältich (je 27,95).
Tsampikos
Mikhaila K.
Magazinformat, 30 Seiten, vollfarbig, 16,95 EUR, Altersnachweis erforderlich
Tsampikos' popular otter girl, Mik, stars in this 30-page image collection. Includes cute poses, sexy pin-ups and some naughty fun with her bunny friend.
Rukis and Myenia
Menagerie
Magazinformat, 60 Seiten, s/w, 19,95 EUR, Altersnachweis erforderlich
MENAGERIE features all-male, all-adult anthropomorphic images, ranging from pinups to group scenes, with a focus on variety of species. Originally released on a subscription only mailing list, this is the first time many of these images have ever been in print.
Rukis
Instinct
Kartoniert, Überformat, 60 Seiten, farbig & s/w, 27,95 EUR, Altersnachweis erforderlich

We all have an Instinct. It's as natural as breathing. As powerful as our will. And sometimes, it leads to something beautiful.
60 Adult-Orientated anthropomorphic images in digital and traditional media by Rukis—author of Heretic, Red Lantern, Cruelty and Unconditional.
Initiated
Kartoniert, Überformat, 26 Seiten, vollfarbig, 14,95 EUR, Altersnachweis erforderlich

Ein kultischer Initiationsritus wächst schnell zur Spezies und sexuelle Orientierungen übergreifenden Orgie aus. Punkt.
Weniger die Story als vielmehr seine Entstehung macht diesen Comic bemerkenswert. 24 Künstler_innen haben sich zusammengetan, je eine Seite gezeichnet und von einem der anderen Künstler_innen kolorieren lassen. Ein Panoptikum an Stilen, Spezies (12 an der Zahl) und Körperformen ist dabei herausgekommen, das fast vollständig auf Text verzichtet. Künstlerisch ambitioniert und höchst geil zugleich.
Folgende Künstler_innen sind vertreten: Ahkahna, Alectorfencer, Blackpassion777, Blotch, Coyox, Falcon McCooper, Kaji, Myenia, Nimrais, PurpleKecleon, Rukis, Shinigamigirl, Sidian und Speed.

A 24-page comic featuring the talents of Ahkahna, Alectorfencer, Blackpassion777, Blotch, Coyox, Falcon McCooper, Kaji, Myenia, Nimrais, PurpleKecleon, Rukis, Shinigamigirl, Sidian and Speed. Each artist sketched two pages and colored two pages, but never with the same partner. This beautiful comic is an experiment in collaboration and shows the unique combinations of each artist's unique style.
Braford
Strip Brawlers
Kartoniert (Großformat), 48 Seiten, vollfarbig, 22,95 EUR, Altersnachweis erforderlich
When the bear, Sarge, interviews his old flame Justin — a possible new dancer for his strip club — they reconnect in more ways than one. But Justin is in for more than he bargained for, as Sarge sets him up with a whole new dance partner.
Braford
Overtime!
Kartoniert (Großformat), 40 Seiten, vollfarbig, 22,95 EUR, Altersnachweis erforderlich
The first comic by Braford, Overtime features Chuck and Dozer, a rhino and bull workout pair having some noisy fun in the showers after their workout...
If you'd like to see a preview, go here to Braford's FA page here: http://www.furaffinity.net/view/9393323
SalKitten
Kiss in the Rain
Kartoniert, 66 Seiten, vollfarbig, 22,95 EUR
Shou was prepared to spend another school year alone until the optimistic dog, Ken, made a sudden appearance in his life. Though unlikely friends, the two grew closer even as Shou guarded a painful secret from his new beloved.
An emotional story of love and friendship against all odds, Kiss the Rain is sure to tug heartstrings and paint a bittersweet, yet touching portrait of relationships facing real trials together.
Laura Garabedian
The Art of Laura Garabedian
Kartoniert, 86 Seiten, vollfarbig, 22,95 EUR
A collection of the work of the artist Laura Garabedian.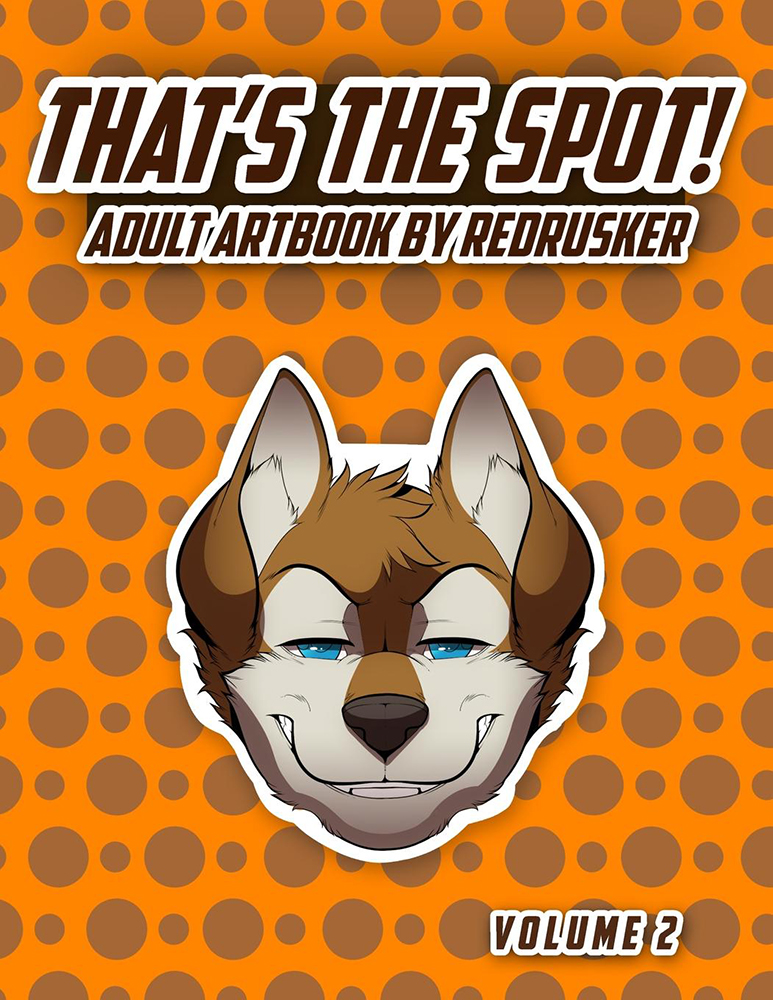 RedRusker
That's the Spot!
Adult Artbook Vol. 2
Kartoniert, Überformat, 70 Seiten, vollfarbig, 27,95 EUR, Altersnachweis erforderlich
Redrusker's second art book, featuring all gay works from 2013 - 2015
RedRusker
That's the Spot!
Adult Artbook Vol. 1
Kartoniert, Überformat, 70 Seiten, vollfarbig, 27,95 EUR, Altersnachweis erforderlich
Nach drei textlastigen und spermatriefenden Comics legt RedRusker sein erstes Artbook vor. Nahezu text-, aber zum Glück selten spermafreie Illustrationen aus den Jahren 2013 bis 2015 sind darin versammelt; darunter auch topaktuelle unter dem Pseudonym Nomozuni entstandene. Abwechslungsreich sind die Charaktere - bekannt die (Lieblings-)Motive von RedRusker. Manche Bilder sind etwas klein oder pixelig geraten. Allen gemein ist, dass die Farben stumpf wirken, was wohl am Papier des Artbooks liegt. Klares Highlight sind daher die 10 nicht colorierten (Vor-)Zeichnungen, die den Band abschließen.
Redrusker's first art book, featuring all gay works from 2013 - 2015
RedRusker
Alone in the Woods
Kartoniert, Überformat, 34 Seiten, vollfarbig, 22,95 EUR, Altersnachweis erforderlich
There's nothing like a walk home under the stars.
Sure the woods can be spooky, but nothing is going to happen, right? And just look at that beautiful full moon...
Alone in the Woods is the third Sea Salt adventure from Redrusker and is for adults only.
RedRusker
The Deep Dark
Kartoniert, Überformat, 64 Seiten, vollfarbig, 27,95 EUR, Altersnachweis erforderlich
For a college student like Sea Salt, the weekend means no responsibilities. Better yet, he's got the house to himself now that his folks are out of town. He can do whatever he wants to. Except that his next door neighbor has other plans for the Dalmatian.
You know what they say about fantasies. Be careful what you wish for...
RedRusker
School Daze
Kartoniert, Überformat, 32 Seiten, s/w, 9,95 EUR, Altersnachweis erforderlich
Every dog loves getting a bone, and college is supposed to expand your horizons, but some boys get to have all the fun!
In his first comic, Red Rusker tells the story of how Sea Salt got his start and what the athletics department had in store for him.
Art and Story by Red Rusker: http://www.furaffinity.net/user/redrusker



Short Stories
Kartoniert, 96 Seiten, vollfarbig, 26,95 EUR, Altersnachweis erforderlich
Wer maximale sexuelle Abwechslung sucht, ist mit dieser Anthologie sehr gut bedient. Zwei vermeintliche Otter-Schwestern streiten sich um die Gunst eines süßen Hotelpagen ("Sibling Rivalry" von The Black Rock), schwule Jungs fallen auch schon mal etwas härter übereinander her ("Playing with a Bat" von Demitri), einer Gnom-Kriegerin gelüstet es nach einen etwas anderen Zweikampf mit ihrem menschlichen Retter in der Not ("Cheaska the Mighty" von Bittenhard), eine voluminöse Braut wird von der sexuellen Fertigkeiten ihres kindlichen Mäusegatten in der Hochzeitsnacht überrascht ("The First Night" von Lavenderpandy) und die burschikose Rowan reagiert etwas über, als ihr menschlicher bester Freund berichtet, dass er wieder solo ist ("(Un)honest about you" von Amun).
"Short Stories" überzeugt durch ein Nebeneinander unterschiedlichster Arten, Körperformen und sexueller Ausrichtungen/Fetische. Aber auch dadurch, dass die geilen Kurzcomics wirklich nette kleine Geschichten erzählen. Short Stories eben. Und die inhaltlich passenden, die Geschichten zum Teil sogar fortschreibenden Illustrationen heben den Gesamteindruck noch weiter.
Welcome to a book of tales each in themselves a great story to be told. From fierce dwarven warriors and beautiful blue otter siblings to a married couples first night together, this small tome of tales will certainly entertain. Sit back and relax somewhere alone and enjoy a few 'Short Stories' with us.
Featuring the Talented Artwork of:
- Amun
- Bittenhard
- Demitri012
- Lavender Pandy
- The Black Rook
Women of Fur
Kartoniert, 30 Seiten, vollfarbig, 20,00 EUR
"Women of Fur" ist ein außergewöhnliches Artbookprojekt, bei dem zwölf Zeichner_innen gebeten wurden, ein bestimmtes Wort zu illustrieren (z.B. fresh, driven, passion oder balance). Zwölf wunderbare Bilder sind dabei herausgekommen, die anthrophomorphe Schönheit in all ihren Formen zelebriert. Ergänzt werden die Bilder durch Erläuterungen und Skizzen der Zeichner_innen, die viel über den Entstehungsprozess der Bilder verraten.

Women of Fur is an collaboration between 12 different artists.
Each artist chose to illustrate an empowering word that any woman can stand for. This collection of work is out to showcase the female form, anthro art as fine art, and the problem solving process involved in illustration.
G.J. Narvasa
Since Then
Heftformat, 24 Seiten, s/w, 9,95 EUR, Altersnachweis erforderlich
El Tigre
Heftformat, 24 Seiten, s/w, 9,95 EUR, Altersnachweis erforderlich
Office Play
Heftformat, 24 Seiten, s/w, 9,95 EUR, Altersnachweis erforderlich
Comics by G.J. Naravasa aka AtomicBoyX, the artist of Frat House Blues.
Kumada Art Book by AtomicBoyX
Magazinformat, 36 Seiten, vollfarbig, 20,00 EUR, Altersnachweis erforderlich
Ob alleine oder zu zweit: Muskeln, Jock Straps und dicke Schwänze zeichnen die Typen in diesem Artbook aus. Aber auch Durchschnittstypen und süße Jungs unterschiedlichster Spezies verirren sich schon mal in die verspielten Szenarios, die uns Kumada Makoto aka AtomicBoyX hier präsentiert.
"Kitanai Animaruzu", schmutzige Tierchen, ist der japanische Titel des Artbooks, und dieser Ansage wird der Band mehr als nur gerecht. Sehr abwechslungsreich und sehr, sehr geil!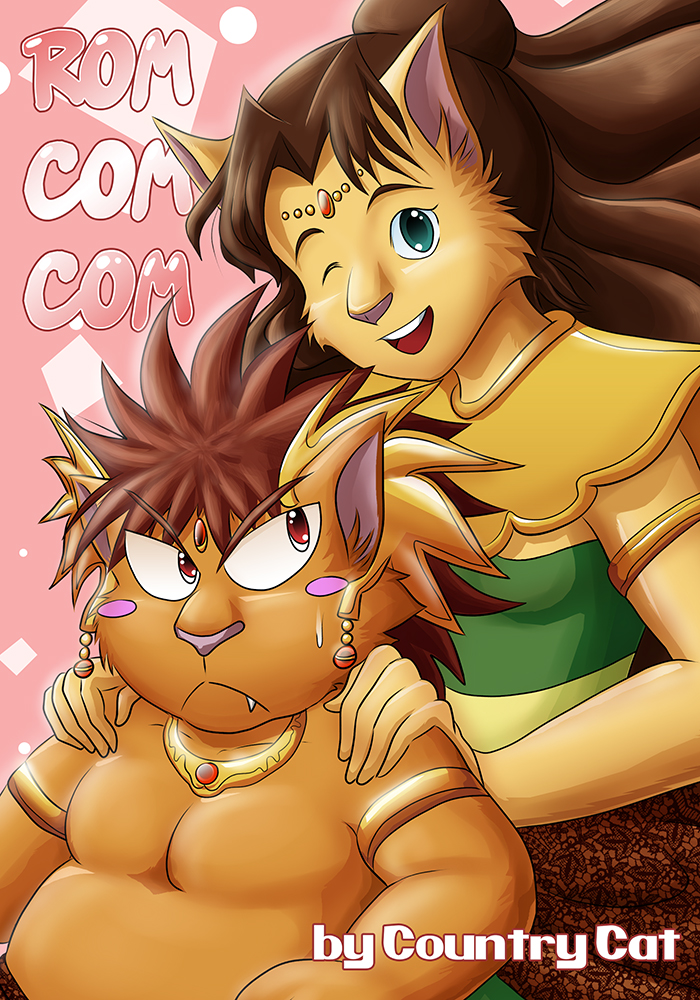 Rovan aka Ryuu Majin aka Country Cat
Romantic Comedy Complications
Heftformat, 34 Seiten, 9,95 EUR
Zwei Deppen bekommen ungenießbare Schokolade als Liebesbeweis geschenkt, ein Löwe kann seine Gefühle nur durch Musik ausdrücken, eine Mangazeichnerin verarbeitet ihren Herzschmerz in der Schülerzeitung und erlangt dadurch die Aufmerksamkeit ihres Schwarms, und eine Liebesgöttin bekommt Nachhilfe in menschlichen Gefühlen. Vier Geschichten über die Liebe, mal mehr mal weniger pointiert dargebracht in der japanischen Form des Comic-Strips, dem sogenannten Yonkoma-Manga. Niedlich und abwechslungsreich.
Love is an amazing thing. It will sweep you off your feet, make you happier than anything, and makes fools of us all. It can be truly wonderful. But what if even the Goddess of Love herself can't stop the hullabaloo of a romance?
We hope you enjoy the romantic commotions of RomComCom, "Romantic Comedy Complications", a series of 4-panel gags about love and romance, and all the complications along the way.
Rovan aka Ryuu Majin
The Catalyst
Heftformat, 38 Seiten, s/w, 9.95 EUR, Altersnachweis erforderlich
Mirdad never thought he'd be the one left behind. But when his best friend, Chandra, dies that's exactly what happens.
Now the lion's grief is holding them both back, and something needs to change before it's too late. Fortunately, Graha is good at making things change.
Rovan (Story) & Maxima (Zeichnungen)
Distance
Heftformat, 34 Seiten, s/w, 9,95 EUR, Altersnachweis erforderlich
Zwei Männer verbringen eine Nacht zusammen, der eine ist etwas älter, der andere etwas jünger. Es ist zugleich eine erste wie auch eine letzte Nacht. Die beiden haben das erste Mal Analsex miteinander, doch der Ältere wird am Tag darauf die Stadt verlassen müssen. Wird diese Nacht das Ende ihrer Beziehung bedeuten, oder sie auf eine neue Stufe heben?
Ein romantischer und geiler Comic von den Machern von "Montero and Zedd". Mehr über die beiden hier: http://www.furaffinity.net/gallery/ryuumajin/
Rovan (Story) & Maxima (Zeichnungen)

Montero and Zedd

Heftformat (Übergröße), 32 Seiten, S/W, 9,95 EUR, Altersnachweis erforderlich
Ein Schmied und ein Abenteurer. Kann das gut gehen?
Als der reisende Schwertkämpfer Zedd den Schmied Montero besucht, ist der Empfang frostig, ja abweisend. Zedd "lauert" dem Wolf daraufhin abends an der hauseigenen heißen Quelle auf, doch es kommt zum Eklat. Was die beiden aber nicht davon abhält, Sex zu haben und die Nacht miteinander zu verbringen. Erst als Zedd sich (mal wieder) aus Haus und Bett von Montero schleichen will, öffnet dieser ihm sein Herz.
Ein ebenso geiler wie einfühlsamer Comic, für alle, die harte Kerle mögen (ob nun Furry oder Mensch) mit ebensolchen Erektionen, denen Gefühle aber nicht fremd sind.
Two old friends, Montero the smith and Zedd the adventurer, have never been able to talk about how they truely feel. When Zedd comes to Montero's smithy in the wood after a quest, will they be able to put aside their difference for what they both want? Or will pride and emotions get in the way again?
Country Cat (Story) & Indra Wisnu Wardhana
Rainbow under the Sun
Kartoniert, Überformat, 208 Seiten, s/w, 19,95 EUR
In dieser Drama-Manga-Anthologie um junge Liebe, Schulprobleme, Selbstwertgefühl & Selbstwahrnehmung versteckt sich der erste Auftritt von Montero und Zedd, dem rabiaten Liebespaar aus dem gleichnamigen Adult-Comic. Country Cat aka Ryouu Majin aka Rovan hat die beiden Charaktere für die Bonusstory dieses sonst rein menschlich besetzten Mangas erfunden. Zedd hilft einem jungen Abenteuer-Pärchen, den legendären Schmied Montero zu finden, und die beiden alten Kampfgefährten erinnern sich daraufhin an ihre früheren Kämpfe. Von der dramatischen Liebe, die die beiden verbindet, ahnt der Leser noch wenig. Das gegenseitige Necken ist aber schon da und der Leser erfährt einiges über die Vergangenheit der beiden.
Die Drama-Manga selbst sind über einige Jahre entstanden (was der Entwicklung des Zeichenstils anzusehen ist), wurden für den fünften internationalen Manga Award nominiert und sind gespickt mit heißen, stämmigen Kerlen (jung wie alt), aber "leider" rein heterosexuell.
Kadath
Misplaced Virtues. Collected Edition (Softcover)
Magazinformat, 64 Seiten, vollfarbig, 27,95 EUR, Altersnachweis erforderlich
Ben recounts how he became the reluctant host to a wild party thrown by his best friend Kevin, who wants to indulge his new girl, Olivia. This puts events into motion that will forever change Ben's life.
This volume includes all three parts which were originally released separately. Stars Olivia the oryx, Ben the cat and Kevin the horse. Includes M/F and M/M/F adult scenes.
Kadath
Coffee Stains Volume 3:
Frappelicious

Magazinformat, 62 Seiten, vollfarbig, 22,95 EUR, Altersnachweis erforderlich
This compilations features some of Kadath's best work from 2013 and 2014. Also includes a previously unpublished comic from 2011, Casual Waggling.
Coffee Stains features M/F, M/M and F/F adult artwork.
Kadath
Coffee Stains Volume 2:
Caffeinated Boogaloo
Kartoniert, 72 Seiten, vollfarbig, 27,95 EUR, Altersnachweis erforderlich
More of Kadath's work from the past few years. Includes a number of pieces featuring Kadath's characters: Puzzle, Patrick, Nightshade, etc and some commissioned pieces too.
Coffee Stains features M/F, M/M and F/F adult artwork.
Kadath
Coffee Stains Volume 1
Kartoniert, 66 Seiten, vollfarbig, 27,95 EUR, Altersnachweis erforderlich
A compilation of some of the best of Kadath's work from the past few years. Includes a number of pieces featuring Kadath's characters: Puzzle, Patrick, Nightshade, etc and some commissioned pieces too.
Coffee Stains features M/F, M/M and F/F adult artwork.
Check out Kadath's work here: http://www.furaffinity.net/user/kadath/
Kadath
Moving Day

Magazinformat, 36 Seiten, vollfarbig, 22,95 EUR, Altersnachweis erforderlich
Puzzle and Diamond are moving in together. A fun F/F erotic comic on a lage scale.
Kadath
Too Much to Handle
Kartoniert, 32 Seiten, vollfarbig, 11,95 EUR, Altersnachweis erforderlich
Puzzle and Diamond have something in store for their flatmate, Patrick. Usually the studly giraffe is ready for any challenge, but will these sexy ladies be Too Much to Handle?
Kadath
Dangerous Bedroom Behaviour
Kartoniert, 32 Seiten, vollfarbig, 11,95 EUR, Altersnachweis erforderlich
Patrick thought dating a carnivore like Nightshade would be fun, maybe even exciting. Little did he know this jackal likes Dangerous Bedroom Behaviour!
Bonus content includes the short comic Morning Bath and an illustration gallery!
Kadath
One Shots
Kartoniert, 28 Seiten, vollfarbig, 11,95 EUR, Altersnachweis erforderlich
Zwölf One-Pager, also Comics, die nur eine Seite lang sind, mit Puzzle, Patrick, Nightshade und dem Rest von Kadaths Crew sind in diesem Heft versammelt. Zwischen 2009 und 2013 entstanden, mal geil und mal witzig, mal romantisch und mal völlig sinnfrei, aber grafisch immer auf höchstem Niveau.
Ergänzt wird das Heft durch das wunderbar von Kaylii kolorierte 10-seitige Portofolio "Puzzle´s Bedroom Eyes!".

"One Shots" is a collection of 12 single page comics, done over a period of 5 years. They feature a variety of styles and content, focusing on eroticism and comedy. ALSO INCLUDES the 10 image portfolio "Puzzle's Bedroom Eyes!".
Kadath
Coffee Meet
Heftformat, 32 Seiten, vollfarbig, 11,95 EUR, Altersnachweis erforderlich
Sebastian der Saluki wollte Puzzle nur auf einen Kaffee treffen. Überwältigt von der exotischen Schönheit der Giraffe geht aber die Fantasie mit ihm durch. Kadath lässt uns an dieser geilen Wunschvorstellung teilhaben. Ergänzt wird das Heft durch Pin-Ups von Puzzle und Sebastian und so einige Creampies.
Kadath & Fuzzwolf
Night Moves
Kartoniert, 28 Seiten, vollfarbig, 11,95 EUR, Altersnachweis erforderlich
Bevor Hyäne Nightshade und Giraffe Patrick ein Paar wurden, hat Nightshade als Domina gearbeitet. Als sie sich aus dem Geschäft zurückziehen will, kommt Stammkunde Fuzzwolf noch einmal in den Genuss all ihres Könnens. Commissioned und geschrieben von Fuzzwolf selbst, ist dieser Comic eine Freude für alle, die gerne Sissyboys von Frauen dominiert sehen.
Ergänzt wird das Heft durch das 10-seitige Portfolio "Shades of Night!" mit Nightshade und Patrick.

People are never what they appear to be. Everyone has hidden secrets, desires, passions. These only come to the surface at night, when the lights go down.
As a dominatrix, Nightshade excels at teasing out these long-hidden fantasies. On her last night, one client will experience the full range of his mistress' Night Moves. ALSO INCLUDES the 10 image portfolio "Shades of Night!".
Kadath & Kaylii
Furbitten Planet
Kartoniert, 52 Seiten, s/w, 19,95 EUR, Altersnachweis erforderlich
United Space Federation patrol officers Adrian Vesper and Dave Deckard receive a distress beacon from a nearby planet. They embark on a rescue mission, only to be captured by the native reptilians. Will they escape, or will they be at the mercy of this Furbitten Planet?
Kaylii
The Harem Artist
Magazinformat, 104 Seiten, vollfarbig, 27,95 EUR, Altersnachweis erforderlich
A collection of 100 images featuring characters in exotic jewelry and clothing by Kaylii.
Kaylii
The Thief's Desire
Magazinformat, 42 Seiten, vollfarbig, 22,95 EUR, Altersnachweis erforderlich
Kaylii's follow-up comic to The Prince's Pawn. After Robyn's escape from the Prince's castle she is robbed by an Okapi. Now Robyn's must use her seduction and charm to retrieve her belongings and more importantly, the amulet which will take her home.
A F/F erotic adventure, art and story by Kaylii.
Kaylii
Kaylii's Private Studio
Art Collection Volume 1
Kartoniert, 40 Seiten, vollfarbig, 17,95 EUR, Altersnachweis erforderlich
A compilation of some of the best of Kaylii's work from 2012 to 2013. Includes a number of pieces featuring Kaylii's characters: Robyn, Anne, Kit, etc and some commissioned pieces as well.
Private Studio features M/F, M/M and F/F adult artwork.
Inoby
Lucid Comic
Kartoniert, 44 Seiten, vollfarbig, 27,95 EUR, Altersnachweis erforderlich
Was passiert, wenn ein heißer Hase sich in eine Traummaschine einspannen lässt, um sich seine masochistischen Fantasien zu erfüllen? Er wird über kurz oder lang das Heft des Handelns an sich reißen und alle anderen Teilnehmer des Traums mit seiner Unersättlichkeit an die Grenzen ihrer Geilheit führen.
Eine Vielfalt an Sexpartnern, farbenfrohen Spielsachen und einfallsreichen Bondage-Ideen erwarten den Leser dieses überaus geilen Comics. Und dazu einige großartige Illustrationen und die ersten 5 Seiten des aktuellen Comics von INoby "A Spooky House" (http://www.furaffinity.net/view/7821516).
A 34-page comic told in three chapters. A bunny experiences a very erotic lucid dream. Includes a 5-page preview of Inoby's next comic "A Spooky House" and bonus pin-ups!
Rukis
Cruelty
Magazinformat, 48 Seiten, s/w, 13,95 EUR, Altersnachweis erforderlich
Markus und Reis, Freunde seit Kindertagen, gehen zusammen durch Dick und Dünn. Reis, an der Schule geoutet und deshalb gemobbt und bedroht, wird von Markus immer wieder in Schutz genommen. Der hat es aber mit seinen "familiär gewachsenen" Drogenproblemen selbst nicht leicht. Eines Tages stellt sich die Frage, ob die beiden mehr verbindet als nur Freundschaft. Und wenn ja, ist dieses "Mehr" (sprich der Sex) es wert, die Freundschaft zu riskieren?
Autorin und Zeichnerin Rukis legt die Beantwortung dieser Frage(n) mit zwei alternativen Handlungsverläufen in die Hände der Leser_innen.
Rukis
Unconditional
Magazinformat, 72 Seiten, vollfarbig, 22,95 EUR, Altersnachweis erforderlich
Markus und Reis leben nun schon zwei Jahren zusammen. Reis studiert hart und engagiert sich in der Schwulenbewegung, Markus kann sich mit Gelegenheitsjobs kaum über Wasser halten und es fällt ihm schwer, in der Öffentlichkeit zu seinem Schwulsein zu stehen. Fast nur beim Sex machen sich die beiden keine Vorhaltungen. Als die Aktionen von Reis´ Schwulengruppe immer gefährlicher werden und Markus´ Mutter stirbt, brechen alte Wunden auf und die beiden trennen sich auf Zeit. Hat diese in der Schulzeit begonnene Beziehung der beiden überhaupt eine Überlebenschance in den Mühlen des Erwachsenwerdens?
Artdecade
I´ve seen it before and collection
44 Seiten, farbig, Heftformat, 10,00 EUR, Altersnachweis erforderlich
Im ersten Comic dieses Heftes (I've Seen It Before") macht sich ein erfahrener Hase über seinen jungen Zimmergenossen her. Doch dieser ist nur scheinbar unerfahren, erkennt er doch den Pimmel des Hasen (oder besser dessen Piercing) sofort von seinem letzten Glory-Hole-Abenteuer wieder.
Im zweiten Comic ("Collection") treffen sich zwei Arbeitskollegen zu einem Sex-Date, bei dem es hart zur Sache gehen soll. Wer von den beiden wohl welche Rolle einnehmen wird?
Dark Nurse
HeavensenD
36 Seiten, farbig, Heftformat, 8,95 EUR, Altersnachweis erforderlich
Gott ist eine Frau! Und was für eine scharfe Braut. Sie hat es sich zur Aufgabe gemacht, jeden Ungläubigen einzeln zu begehren. Nun ist der junge Duncan dran und der Göttin zur Seite steht ihr der Engel der Lust Peaches.
Neben dem göttlich geilen Comic von Dark Nurse enthält dieses Heft einen exklusiven Comic von Al, in dem Adam und Steve, die ersten Füchse auf Erden, den Sex für sich entdecken und die Göttin damit auf eine folgenschwere Idee bringen.
(Vorsicht: Hyper, Sizeplay und teilweise heterosexueller Inhalt)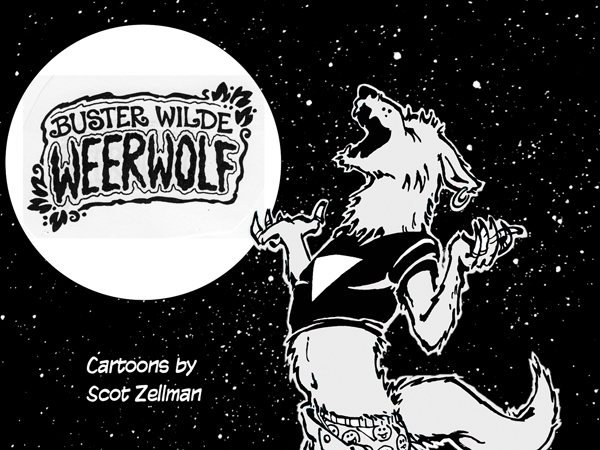 Scot Zellman
Buster Wilde - Weerwolf
Kartoniert, Querformat, 156 Seiten, s/w, 12,95 EUR
Buster Wilde: Weerwolf burst onto the scene when the Web was young and the artists hungry.
In grainy GIFs he thrilled the throngs of nascent netizens with antics droll and scandalous, in strips proportioned to fit the wide screens of the distant future.
Here, at last, for your amusement, Scot Zellman's faaaabulous creation is brought to life in exquisite ink on paper, as was always Buster's secret destiny.
And in addition: over fifty pages of sketches and scribbles from the artist's archives, never before seen, showing how the legendary strip came together.
Don't be scared!
He doesn't bite.
That'd be gauche.
Reihen
Artdecade
Artdecade Monthly
2012 Collection
Magazinformat, je 104 Seiten, vollfarbig, 27,95 EUR, Altersnachweis erforderlich
artdecade monthly is the website of independent illustrator Artdecade who, for the past several years, has been creating new and enticing images every week for his fans. The website hosts his numerous comics and an entire year's worth of illustrations.
This collection includes 100 full colour images that were featured on the site in 2012, and since the images are no longer available online, it is the best way to enjoy Artdecade's cast of virile men.
Artdecade
Artdecade Monthly
2009 + 2010 + 2011 Collection
Magazinformat, je 96 Seiten, vollfarbig, je 27,95 EUR, Altersnachweis erforderlich
Kaum ein anderer Furry-Künstler schafft so vielfältige, verspielte und doch strunzgeile Illustrationen wie Artdecade. Egal ob bullige Hetero-Kerle, zierliche Jungschwule oder gestählte Traumkörper, ob verliebte Pärchen, spermageile Sexsklaven oder experimentierfreudige Ehemänner: Artdecades Illustrationen erzählen immer ihre eigene kleine Geschichte. Oft mit einem Augenzwinkern und immer mit viel Einfühlungsvermögen.
Die Kollektionen vereinen alle für die Webseite www.artdecademonthly.com im Laufe eines Jahres entstandenen Farb-Illustrationen, zum immer wieder Anschauen. Viele der Illustrationen sind nicht mehr online verfügbar.
Artdecade
Only if You Kiss
Only If I Love You
Only if You Know
Heftformat, je 38-42 Seiten, vollfarbig, je 10,00 EUR, Altersnachweis erforderlich
Die Only-If-Trilogie zeichnet leichfüßig die Beziehungsgeschichte von Barry und Doug nach. Lange Jahre gute Freunde, findet Doug in "Only if you kiss" heraus, dass Barry auf Männer steht. Er selbst hält sich für hetero und lässt sich nur mit dem Versprechen "es ist nur schwul, wenn wir uns küssen" zu einer Wichs- und Ficksession überreden.
Ein anschließendes Date der beiden in "Only if i love you" entwickelt sich dann anders als Doug es sich gedacht hatte. Camping und Fischen sind für ihn nun wirklich keine schwule Freizeitbeschäftigung. Als er merkt, dass Barrys Körper ihm mehr und mehr gefällt, gesteht er sich sein Schwulsein endlich ein und ein plötzlicher Wetterwechsel gibt den beiden Gelegenheit für ausgedehnte Körperertüchtigungen im 2-Mann-Zelt.
Diese beiden Hefte werden durch je ein gutes Dutzend serienunabhängige Illustrationen aufgefüllt.
In "Only if you know" sind Doug und Barry schon fünf Jahre ein Paar. Obwohl Barry an ihrem Jahrestag arbeiten muss, wollen sie gemeinsam feiern. Und beginnen ihn standesgemäß mit einem Guten-Morgen-Blowjob. Als aber Barry von einem Geschäftspartner sexuell bedrängt wird, ist er es nun, der seine Sexualität und Liebe zu Doug auf die Probe gestellt sieht.
Artdecades Fähigkeit, "echte Kerle" nicht nur zu zeichnen, sondern auch mit Leben zu erfüllen, macht diese drei Comics zu einem Kleinod, das so manches Klischees auf den Kopf stellt.
Artdecade
The Luck of Fools
Volume One
Kartoniert, 46 Seiten, vollfarbig, 12,95 EUR, Altersnachweis erforderlich
Volume Two
Kartoniert, 72 Seiten, vollfarbig, 16,95 EUR, Altersnachweis erforderlich
Volume Three
Kartoniert, 92 Seiten, vollfarbig, 16,95 EUR, Altersnachweis erforderlich
Three friends are on a journey of adventure, intrigue, and sex. Well, two friends, and the human they've tricked into being their accomplice.
But with magic, murder, and misadventure ahead of the, even these fools will need luck on their side.
Artdecade
Threshold
Part 1 - 4

Heftformat, je 42 Seiten, vollfarbig, Altersnachweis erforderlich
Part 1 12,95 EUR
Part 2 & 3 9,95 EUR
Part 4 12,95 EUR
Irgendwann in der Zukunft. Weltraumflüge, menschenähnliche Roboter und virtuelle Realitäten gehören zum Alltag. Jeder hat einen DNA-gebundenen Avatar im ständig päsenten Network. Ein Hacker-Pärchen vermag deshalb nicht nur über Millionen Kilometer hinweg heißen Sex zu haben, sondern sich auch anderer Hacker auf ihre ganz spezielle Weise zu erwehren.
Wie immer werden die Hefte durch (serienunabhängige) Illustrationen aufgefüllt.
G.J. Narvasa
Frat House Blues #1 - #4
Heftformat, 28 - 34 Seiten, s/w, je 9,95 EUR, Altersnachweis erforderlich
Furry-Bara-Galore!
Ein Studentenwohnheim, geile beleibte Studenten, viel Alkohol und jede Menge Sex. Das sind die Zutaten zu G.J. Narvasas FRAT HOUSE BLUES. Geboten werden kurze, spritzige Sexabenteuer bierbäuchiger schwuler Jungs. Manga-mäßige Zeichnungen und eben solche Sex-Action garantieren mega-mäßigen Spaß.
University Tails Vol. 3
Kartoniert, 98 Seiten, 24,95 EUR, Altersnachweis erforderlich
Join us again for the third edition of University Tails! As the rich and powerful 'Legacy' students rule the school social hierarchy, students on scholarship or sponsored by benefactors struggle to maintain in the demanding caste system.
Some do what they can to belong, others try to ignore it all together. What will befall the student body in their new social dynamic. Read all about their erotic misadventures in the latest issue of University Tails.
Stories and art featuring the talents of The Narutoshi, Demetri, Bittenhard, Refer, and 2ll2l
Cover Art by Lavender Pandy and The Black Rook
Featuring insert art by Caninelove, Sollyz, Naesyroc, ZeiroMysticfox61, Monamoo, and Lazydez.
University Tails Vol. 2
Kartoniert, 116 Seiten, s/w, 24,95 EUR, Altersnachweis erforderlich
Welcome to the second issue of University Tails. You are invited to peer into the exciting lives of the students of the ultra-exclusive Carrington University College. Watch the fur fly as the alumni encounter traps, frats and quite a few spoiled brats. Time to see whose going to be the big man on campus.
Stories and art featuring the talents of Noha, VDisco, Loui, Freckles and Lavender Pandy. Cover art by Salkitten and insert art by The Black Rook, Dragonfu, VB, Tatsumichi, Locosaltinc, Ritsukaxan, and Mewpan.


University Ta
ils Vol. 1
Kartoniert, 84 Seiten, s/w, 19,95 EUR, Altersnachweis erforderlich
Willkommen auf der Carrington Universität! Sissyboys, Traps und böse Buben bevölkern hier die Flure und haben meist nichts anderes als Unartigkeiten im Kopf. Ob untereinander oder mit dem männlichen Lehrkörper, ob freiwillig oder mit etwas Nachdruck, hier kommt jeder auf seine Kosten - wenn er denn etwas für feminine schwule Jungs übrig hat...
Gut und ausführlich erzählte Comics von Salkitten, Lavender Pandy und Honeypaw. Mit einem Cover von NAK, Illustrationen von Rajii und einem Bonus-Comic von The Black Rook.
Furious
Meatier Showers 3
Harder, Buffer, Faster, Stronger
Kartoniert, 36 Seiten, vollfarbig, 22,95 EUR, Altersnachweis erforderlich
Pridestar ist zurück! Nach einem geldreichen Auftritt, bei dem der muskelbepackte Stripper sogar Kreditkarten akzeptiert, will er sich in der Sauna "Meatier Showers" entspannen. Und verfällt dort sofort dem hypermuskulären Tanz. Dessen Freund Groover erwischt die beiden in flagranti und ist natürlich "not amused".
Wie sich diese Situation in allseitige sexuelle Entspannung auflöst, was eine Pridestar-Sexpuppe damit zu tun hat und welche absurden Situationen Furious sich sonst noch für den letzten Band von MEATIER SHOWERS ausgedacht hat, solltet ihr selber lesen. Spaß und (Sex-)Action sind garantiert.
It's business as usual at the bathhouse for Tanz and Groover. However, when a flirtateous porn celebrity, Pridestar, arrives for a visit, the lion unwittingly finds himself caught up between the canine couple. Chaos and hilarity ensure in this installment of the Meatier Showers series.
Furious
Meatier Showers 2
One More Time
Kartoniert, 42 Seiten, vollfarbig, 18,95 EUR, Altersnachweis erforderlich
A romantic comedy of epic proportions.
Groover und Tanz, die beiden "hypermuskulären" Turteltäubchen, sind zurück mit einem Füllhorn an absurden Situationen, einem Gaststar namens Pridestar und Illustrationen von Beefeater, Cooner, Donryu, Forge Wielder, Korak, SolidAsp und Talegas.
Geil und witzig in einem sind die farbigen Kurzcomics, die dieser Band als Ergänzung zum originalen Meatier Showers Sammelband bietet: Groover hat mit seiner überdimensionalen Morgenlatte (und den klingelnden Paketboten) zu kämpfen, Tanz testet die neuen Überwachungskameras im Fitnessstudio und Stripper Pridestar vergisst schon mal sein Portemonnaie oder die Pomade, kommt dafür aber immer auf unkonventionelle Lösungen für diese Probleme.
Furious
Meatier Showers
98 Seiten, s/w, Heftformat, 19,95 EUR, Altersnachweis erforderlich
Muscle porn and much, much more!
Zwei Hunde treffen sich in der Sauna und schon wird es spritzig? Könnte so einfach sein, ist es aber für den Hausmeister Groover nicht, als er sich auf den ersten Blick in den übermuskulären Saunagast Tanz verguckt. Zur besten Unterhaltung des Lesers hat Furious seine beiden Helden mit großen Persönlichkeiten ausgestattet. Groover ist unsicher, hyperaktiv und liebt Tanzen unter der Dusche. Tanz ist liebenswert, vernarrt in sein Hanteltraining, hat aber doch leichte Komplexe ob seiner schieren Masse.
Groover bei seine Eroberungsversuchen zuzusehen, macht einfach großen Spaß (keine Angst, natürlich kriegen die beiden sich am Ende und es spritzt gewaltig) und ist auch für jeden lesenswert, der für Muscle Porn sonst nichts übrig hat. Das Nachwort und das komplette erste Drittel als früheste Sketch-Version geben zudem einen Einblick in die Entstehung und Entwicklung dieses sehr witzigen und (deshalb) geilen Comics.
John "The Gneech" Robey
The Suburban Jungle
Rough Housing #01 + #02 + #03

Heftformat, je 24 Seiten, vollfarbig, je 6,00 EUR
New Town, New Life, Same Old Neuroses! Charity Cheeger, daughter of Dover Cheetah and Comfort Tiger, comes to the seaside tourist town of Missing Keys to take charge of her Uncle Leonard Lion's new restaurant and hotel, "The Rough House" — Only to discover that the place is falling where it stands, and the staff range from "unhelpful" to "downright deranged."
Can Charity whip the place into shape before Leonard gives up and sells it out from under her? What strange secrets does the town of missing Keys harbor? And what the heck is the "Friday Night Rumble"?
An all new furry comic from the creator of "The Suburban Jungle (Starring Tiffany Tiger)" and "Nevernever"!
John "The Gneech" Robey
No Predation Allowed
Ten Years of Suburban Jungle Volume 1-3
Kartoniert, je 124 Seiten, s/w & vollfarbig, je 32,95 EUR
Collections of the classic "Suburban Jungle" comic strip!
February, 1999: The world wide web is uncharted territory, and webcomics are just about to explode. Into this heady mix of danger and adventure walks bright new star Tiffany Tiger, ready to take the world by storm!
"The Suburban Jungle" (Starring Tiffany Tiger) ran for ten crazy, roller-coaster years, and this new collection finally brings it all together. Starting here with Volume One, all of the elements are brought into play:
The Watering Hole, and snarky bartender Leonard Lion
Conrad, the gorgeous but tortured boyfriend
Code-speaking cheetah geek Dover
Drezzer Wolf, fashion photographer and insatiable (gay) flirt
Yin the Giant Panda, whose crazy conspiracy theories turn out to be all too real
Join them all in the story of the life, loves, and career of aspiring supermodel and ferocious predator, Tiffany Tiger!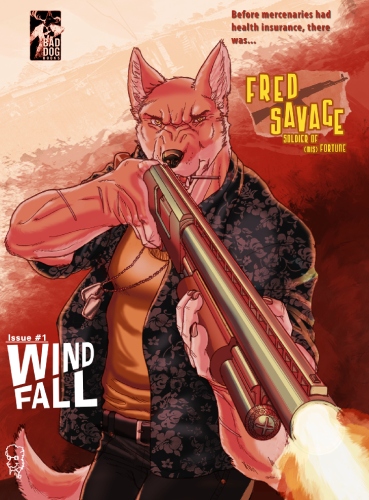 Steven "Jodimest" Swanson
Fred Savage Volume 1: Wind Fall
Kartoniert (Kleinformat), 36 Seiten, vollfarbig, 14,95 EUR
The mercenary is a dying breed. World leaders desperate to distract their people throw their armies at any war they can find, and the old brush fires of Africa are flickering out. A dreadful, dreary outbreak of peace looms over the merc community.
In spite of it all Savage, an ambitious and unbridled Australian soldier of fortune, continues to look for the perfect war. He is experiencing difficulties.
For the uninitiated, Fred Savage: Soldier of Misfortune is a war comic featuring a cast of anthropomorphic animal characters who think that they're people. How quaint! It's unusually violent and has words in it, so consider yourselves warned.
Kelvin the Lion
Macropod Madness Book 1
Pouches & Tails
Kartoniert, 120 Seiten, vollfarbig, 27,95 EUR
Kelvin the Lion's web comic about teenage kangaroos returns in a full color graphic novel. Jenna Grape was a typical teenage kangaroo until she discovered a knack for magic. Now the Ministry of Black Magic it trying to recruit her, and a jealous voodoo witch is seeking revenge on her. Plus she's beginning to find herself in a bizarre love triangle. No one said going back to school would be easy.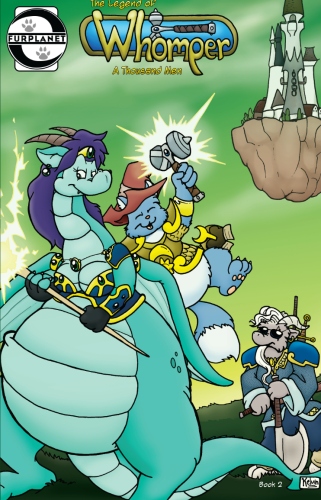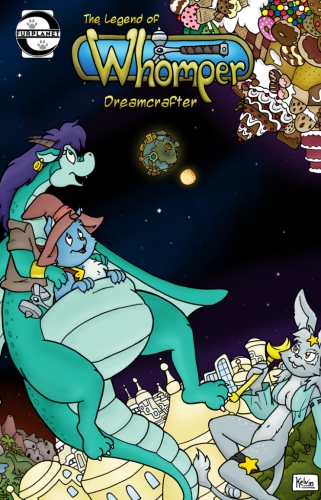 Kelvin the Lion
The Legend of Whomper: Book 1 + 2 + 3
Kartoniert, je ca. 128 Seiten, s/w, je 14,95 EUR
Meet Vulpie Whomper, a fox who has mastered the art of fighting with a warhammer and is being sent out on a series of trials. On his way, Whomper must face slime covered ruins, a zombie infested town, and even finds himself in the belly of a giant mechanical monster.
Each experience brings him closer to his final trial, though even he doesn't know what that is yet.
Book 1 collects the first 13 stories. First seen in the pages of FURRLOUGH.
Book 2 collects issues 1 through 4 of the second volume of Whomper comics.
Book 3 collects issues 5 through 8 of the second volume of Whomper comics.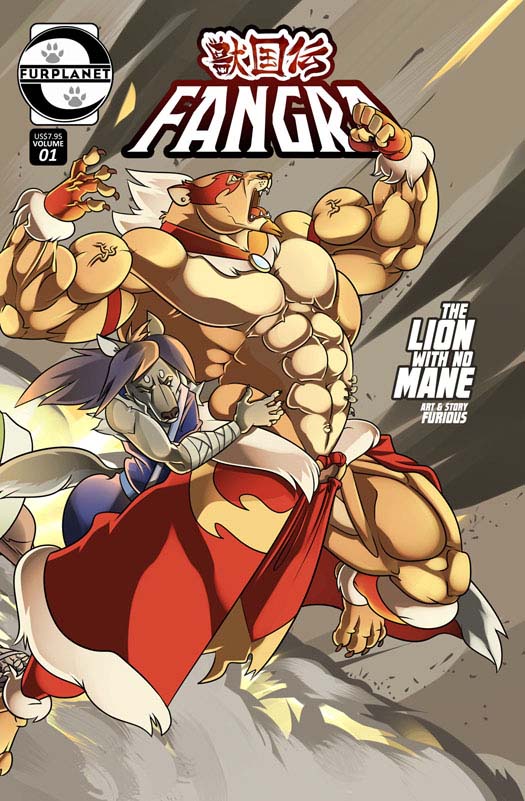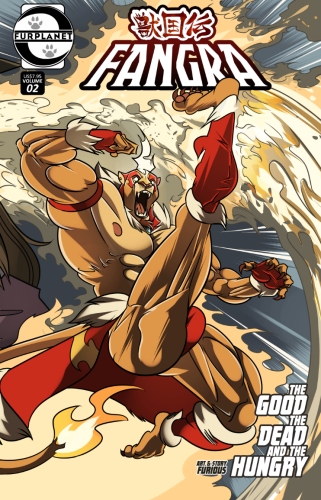 Furious
FANGRA Vol. 01 + 02 + 03
The Lion Wth No Mane
KArtoniert, je 34 Seiten, s/w, Heftformat, 7,95 EUR
"Fist of the North Star" meets "Cooking Mama" Furious style!
Zwischen den Hufträgern und den Raubtieren herrscht Bürgerkrieg. Nach Jahren des Waffenstillstandes haben die Hufträger wieder die Oberhand gewonnen und schikanieren die Raubtiere, wo sie nur können. Das Zubereiten von Fleisch ist ihnen z.B. verboten. Der junge Erbe des Inugami Teehauses erlebt die Willkür der neuen Herren am eigenen Leib, als zwei Soldaten sein kleines Etablissement durchsuchen wollen. Doch Rettung naht, in der Gestalt des Löwen ohne Mähne. Der Kämpfer wollte eigenlich nur eine Pause machen, nun steht er dem jungen Wolf mit all seiner Macht zur Seite. Warum, das ist nur eins der Geheimnisse, die ihn umgeben.
Vol. 1 - Diplomatic ties amongst the herbivorous Hooves and meat-eating Predators have been a tight-rope act of tolerance at best. As civil war breaks out, Kouta, a young Shiba-Inu, is caught between the two factions. The tables have turned for both predators and prey, and Kouta is about to discover firsthand how drastic things have changed when two Hooven guards arrive at his doorstep.
Vol. 2 - In this issue, The Lion battles with the deadlier, powered-up Hooven guard, Gozu. Resounding echoes of the past clash violently with the impending present. How will Kouta handle the sudden and dramatic change of events? Who will prevail in this blood-pumping tale of the Good, the Dead and the Hungry?
Vol. 3 - Tensions between Fangs and Hooves are at an all-time high. Rao, a liger ronin together with Kouta, a Shiba Inu refugee, flee the war-torn kingdom. Their pursuers not far behind, the duo are forced to make a hasty bridge crossing, only to discover an ambush awaiting them. The only way through is to fight for their lives and survive.
Jodi J3T Tong
House of LSD Vol. 1
116 Seiten, s/w, kartoniert, 9,95 EUR
Vier Schwestern betreiben ein Porno-Studio. Klingt nach schlüpfrigem Humor, ist aber eine Romantic Comedy allererster Güte. Jodi Tong vermengt in ihrem Webcomic (die ersten 2 Jahre enthält dieser erste Band) niedliche Zeichnungen, liebenwerte Charaktere, etwas Nacktheit, viel warmherzigen Humor und reichlich Geschlechterverwirrung zu einem unterhaltsamen Mix.
Artdecade
The Siege of Maastricht Part 1
28 Seiten, s/w, Heftformat, 7,95 EUR
Fabien Gossec ist der jüngste Spross einer reichen Tuchmacherfamilie aus Frankreich. Der Geschäfte wegen in den Niederlanden, ist er getrennt von seinem Geliebten. Als 1672 Krieg aufzieht in EURpa, steht die Familie vor der Rückkehr in die Heimat. Doch Fabiens Wiedervereinigung mit dem Liebsten wird von mehr als nur dem Krieg bedroht...

Eine dichter, ruhig erzählter und NICHT-pornographischer Comic von ARTDECADE.
"The Siege of Maastricht Part 1" Diese E-Mail-Adresse ist gegen Spambots geschützt! JavaScript muss aktiviert werden, damit sie angezeigt werden kann. ...
Novels & Anthologies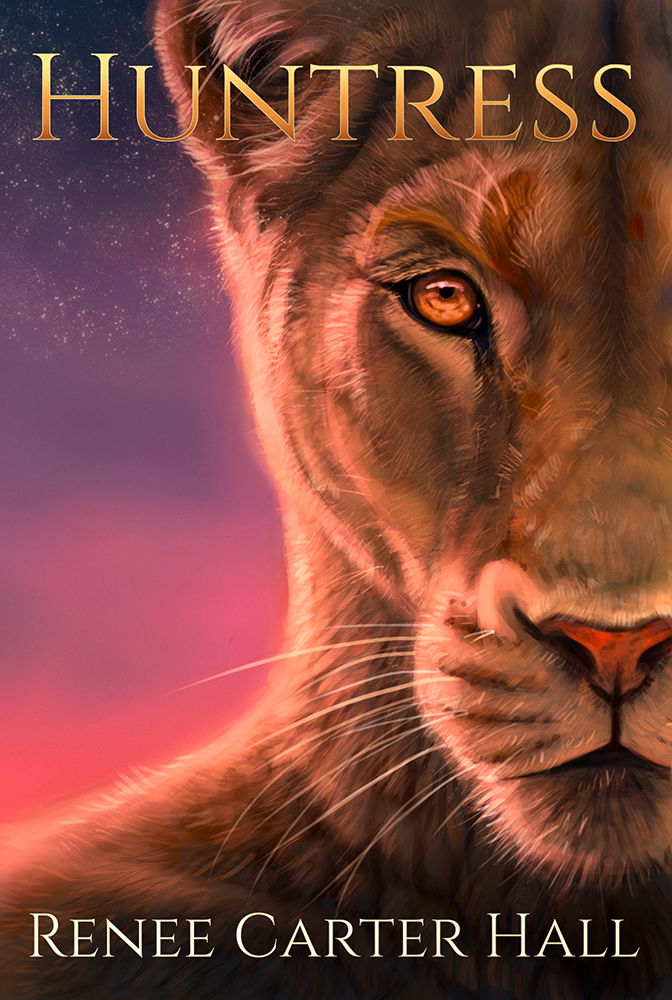 Renee Carter Hall
Huntress
Kartoniert, 214 Seiten, 9,95 EUR
All her life, the young lioness Leya has dreamed of becoming one of the karanja, the proud huntresses of her people. But there's more to being karanja than just learning to throw a spear. Life among their tents means giving up family, safety—even love. How much is Leya willing to sacrifice for a place in the sisterhood? Does she truly have the heart of a huntress?
Author Renee Carter Hall takes readers into the veld for this coming-of-age anthropomorphic fantasy for teens and adults. This edition includes the novella "Huntress" (nominated in the 2014 Ursa Major Awards and Cóyotl Awards), as well as three brand-new short stories set in the same world.
Austen Crowder
The Painted Cat
Kartoniert, 274 Seiten, 19,95 EUR
Cover von Evan Appel
In one world, she is Miss Perch, teacher at a small school deep in the corn grids, helping kids who are turning into cartoon find their way out of town.
In the other, she is Bunny Cat, and paints herself up to be the very same type of cartoon cat her small town has grown to hate.
The wall separating those two worlds is starting to break down. Between rekindling a relationship with an old college flame and discovering how much she loves being Bunny Cat her two worlds are starting to merge. Keeping up the appearances of two separate lives is bad enough, but when kids start getting sent away for turning toon she knows she can't stand on the sideline any longer.
Two things are for sure: the two worlds won't stay distinct for much longer, and Janet won't come out unscathed.

"The Painted Cat" is the second novel from Austen Crowder, the author of "Bait and Switch". Read the first two chapters: http://sfw.furaffinity.net/view/15869670/


Rose LaCroix
The Vimana Incident
Kartoniert, 208 Seiten, 9,95 EUR
Cover von Nightphaser

The year is 1939. The nations of the world have given up on war, and now compete in a race to build the first permanent lunar colony.
Edward "Red Ned" Arrowsmith, a British aerospace engineer, finds himself caught up in a cosmic level of intrigue when a secret lunar mission sends him on an unwilling journey six and a half centuries into a bizarre future. But what does this frightening future have to do with Godric of Hereford, a canon who died of ergot poisoning in 1153?
Rose LaCroix is proud to present her most anticipated novel, where psychedelic science fiction, historical fiction, and alternate timelines come together in a suspenseful, mind-bending masterpiece.
Copy autographed by the cover artist available. Vom Zeichner des Covers signiertes Exemplar erhältlich.
Rose LaCroix
Escape from St. Arned
Kartoniert, 114 Seiten, 9,95 EUR
Elor, Laz, and Vinz thought their troubles were over. After a narrow escape from their ordeal on the Basecraft Cirrostratus, the three of them settled down to a quiet life in the suburbs of Lycocia... until their past caught up with them.
Now, every affair they had, every corner they cut, every lie they told, and every splinter of the empire they helped topple has come back to haunt them in this exciting sequel to the award-nominated novel "Basecraft Cirrostratus."
Rose LaCroix
The Goldenlea
Kartoniert, 336 Seiten, 19,95 EUR
Cover und Innenillustrationen von Kobi LaCroix
Faol Carric was born to rule, inheriting the dukedom upon the passing of his father. Immediately tested by the conspiracy of the usurper Virgil Dol, Faol will need to prove his worth as a leader, a fighter, and a strategist if he is to survive-much less regain his place as the rightful ruler of the Goldenlea.
Justin Lamar aka Rose LaCroix
Basecraft Cirrostratus
Kartoniert, 162 Seiten, 9,95 EUR
Cover von Myenia
Things have just gotten very difficult for Professor Elor Kaya. When Emperor Salaar's secret police, the Nightwatch, decide the cougar is a threat to the regime, he flees to the holds of the Basecraft Cirrostratus, a sort of flying airport. Within its holds, in a hastily-built shanty town, he and several hundred other creatures try to make out a living in a lawless parallel society.
There, Elor is forced to confront gangsters, thugs, gun runners, and bloodthirsty smugglers... and his ex boyfriend, a wolf named Vinz, who fled the surface nine years before. Complicating things even further, Vinz's current love interest- a fox named Laz- ends up falling for Elor. Will Elor be sucked into a life of crime? Will Elor reunite with Vinz, or will Laz break Vinz's heart? And how long can they survive inside the dark, sunless holds of the Basecraft Cirrostratus?
Author Justin Lamar is proud to present the very first of his books to see publication, a story that blends adventure, action, romance, and intrigue that crosses genres. Fans of Noir and Dieselpunk fiction will enjoy the gritty, dangerous setting reminiscent of 1930s EURpe.
Tempe O'Kun
Windfall
Kartoniert, 326 Seiten, 19,95 EUR
Cover und Innenillustrationen von Slate
What do you do when the world gets bigger?
Minor celebrities Max and Kylie have always fit together perfectly, both on the screen and behind the cameras. But it's not until their show is cancelled and they go their separate ways that they begin to wonder if they might have been more than just friends.
Now, Kylie struggles to adjust to life in Windfall, the little New England town whose weird local legends inspired the show. When Max comes to visit for the summer, she strives to let him know how she feels about him—without exposing him to the chilling secrets she's begun to uncover in her new home.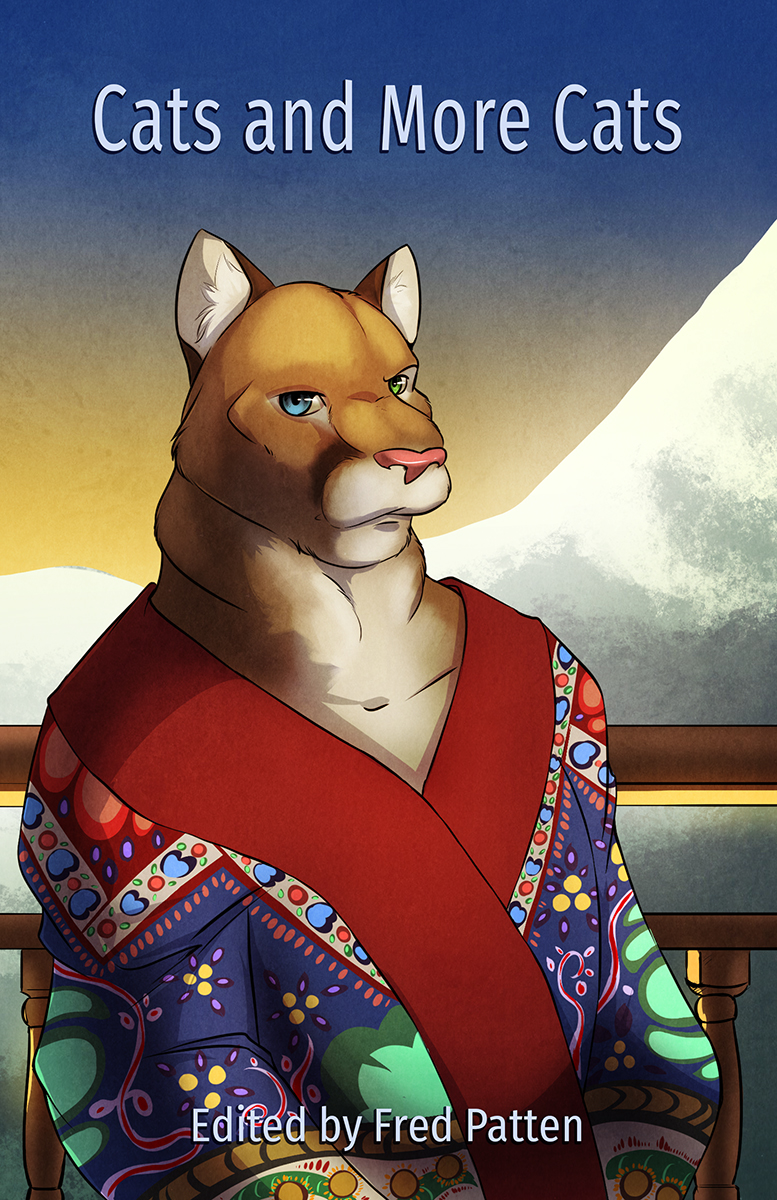 Fred Patten (Ed.)
Cats and More Cats
Kartoniert, 262 Seiten, 19,95 EUR
Cover von Donryu

The not-so-humble feline has fascinated mankind for generations. From the noble jungle hunter, to the witch's familiar, to the stray on the back porch meowing to be let in, cats have snuck into our hearts and dreams for as long as mankind has made homes. They have become our companions, and we tell stories about their secret lives and the strange magic they might possess.
This is a collection of those stories, gathering some of the best fantasy and science fiction stories featuring our feline friends, from authors like Clare Bell, Mary E. Lowd, Elizabeth Ann Scarborough, Bryan Derksen, Lawrence Watt-Evans, James M. Ward, and Renee Carter Hall. These fourteen stories will give you a glimpse into the world of cats, and leave you wanting more.
Contains the following stories:
Trouble by P. M. Griffin
Bomber and the Bismarck by Clare Bell
… But a Glove by John E. Johnston III
Born Again by Elizabeth Ann Scarborough
Masters and Students by Bryan Derksen
Trixie by Lawrence Watt-Evans
Destiny by Kristine Kathryn Rusch
Three-Inch Trouble by Andre Norton
Defender of the Small by Jody Lynn Nye
The Luck of the Dauntless by James M. Ward
After Tony's Fall by Jean Rabe
Magtwilla and the Mouse by Mary E. Lowd
A Spoiled Rotten Cat Lives Here by Dusty Rainbolt
The Emerald Mage by Renee Carter Hall
Furry Fandom and Cats by Fred Patten
A Bibliography for Bast by Fred Patten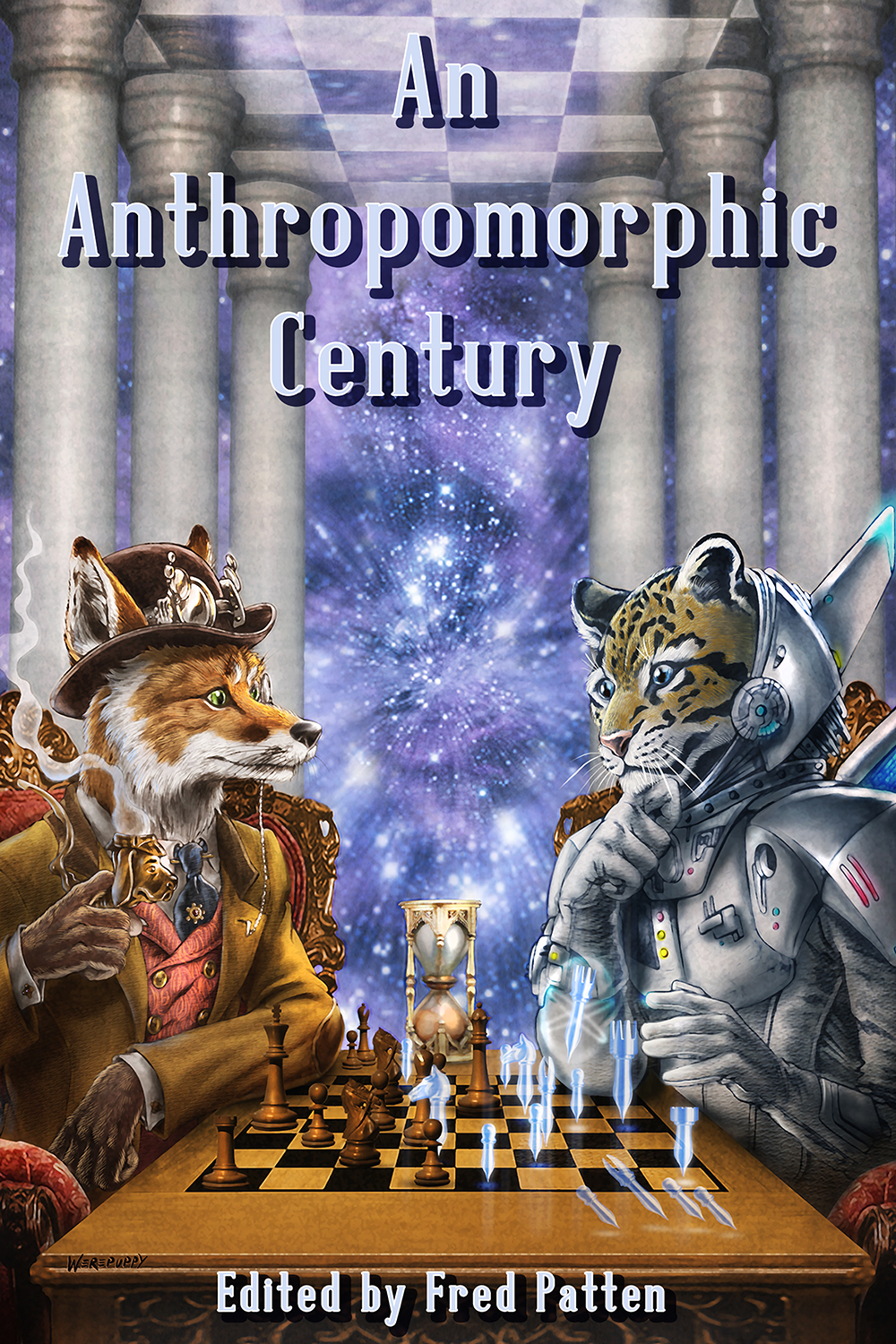 Fred Patten (Ed.)
An Anthropomorphic Century
Kartoniert, 322 Seiten, 19,95 EUR
Cover von Mark "Werepuppy" Brill
What if animals could talk? Or communicate telepathically? What if they evolved to become something more than human, or we made ourselves more like them?
Storytellers have asked these questions from the dawn of human history to the present day. An Anthropomorphic Century showcases the answers to some of these questions from the last century.
Features stories ranging from 1909 to 2008, including the talents of Peter S. Beagle, Philip K. Dick, Michael H. Payne, Phil Geusz, Renee Carter Hall, and more.
Contains the following stories:
Tobermory by Saki
Dr. Lu-mie by Clifton B. Kruse
The Blue Giraffe by L. Sprague de Camp
Barney by Will Stanton
Expendable by Philip K. Dick
The Conspirators by James White
Sic Transit… ? A Shaggy Hairless-Dog Story by Steven Utley and Howard Waldrop
Crow's Curse by Michael H. Payne
Nine Lives To Live by Sharyn McCrumb
Vole by John Gregory Betancourt
Choice Cuts by Edd Vick
Transmutational Transcontinental by Phil Geusz
Daylight Fading by Chris Hoekstra
The Good Sport by Bill Kieffer
The Dog Said Bow-Wow by Michael Swanwick
Cat 'n' Mouse by Steven Millhauser
Pig Paradise by Scott Bradfield
Sergeant Chip by Bradley Denton
Gordon, the Self-Made Cat by Peter S. Beagle
The Wishing Tree by Renee Carter Hall
Fred Patten (Ed.)
The Furry Future
Kartoniert, 446 Seiten, 19,95 EUR
Cover von Teagan Gavet
For the history of the human race we have been locked inside our bodies. Spiritualism, medicine, basic biochemistry and genetic enhancement seek to take us beyond the physical limitations we were born with. The Furry Future is a record of what might become of us once we perfect the methods of reshaping biology.
Fangs and claws could become just another fashion accessory. We might use our technology to create intelligent and able companions as we spread out to the stars, or else create perfect servants unable to disobey the whims of their masters. We may remake ourselves to attain our future across the galaxy and unlock our spiritual potential, or collapse into war over where the boundaries of humanity lie.
These nineteen stories take us to these different futures, each one written in the fur we choose to wear.
Contains the following stories:
Emergency Maintenance by Michael H. Payne
Tow by Watts Martin
Experiment Seventy by J. F. R. Coates
A Bedsheet for a Cape by Nathanael Gass
Hachimoto by Samuel C. Conway
Vivian by Bryan Feir
Family Bonding by Yannarra Cheena
The Future Is Yours by MikasiWolf
Distant Shores by Tony Greyfox
The Analogue Cat by Alice "Huskyteer" Dryden
The Sequence by NightEyes DaySpring
Trinka and The Robot by Ocean Tigrox
Lunar Cavity by Mary E. Lowd
The Darkness of Dead Stars by Dwale
Field Research by M. C. A. Hogarth
The Curators by T. S. McNally
Evolver by Ronald W. Klemp
Growing Fur by Fred Patten
Thebe and the Angry Red Eye by David Hopkins with illustrations by Roz Gibson
Roz Gibson
Griffin Ranger Volume 1: Crossline Plains
Kartoniert, 370 Seiten, 19,95 EUR
"Live by the Law, die by the talon."
Griffin Ranger Harrell White-shoulders is undisputed master of his territory. His word is law, and he enforces it with
deadly beak and talons. He's never encountered a problem he can't overcome… until now.
An exotic griffin from the other side of the world, Kwaperramusc is the premier Investigator for the Griffin Rangers. He's never come across a crime he couldn't solve or a mystery he couldn't unravel… until now.
When Ranger Harrell receives news that his adolescent daughter Aera and four of her friends have vanished while traveling through the Great Plains, he flies far from his familiar territory to the isolated prairie town where she was last seen. Along with the Investigator and his young assistant Tirrsill, Harrell is determined to find out what happened, no matter how many people he has to go through to do it.
In the town of Crossline Plains, Harrell and the investigator deal with uncooperative local griffins and outright hostility from the immigrant Greenies. He has no idea of the terrible secret he's about to uncover, something so dangerous that those behind it are willing to kill Ranger Harrell, the Investigator, and anyone else with him in order to keep it hidden.
And all of Harrell's strength, courage and skill might not be enough to stop them.
Arilin Thorferra
Goddess
Kartoniert, 148 Seiten, 9,95 EUR
Russell Rittenhouse knows exactly what he wants: move from his job as a librarian at Bennett University to a professorship. Find a house. Find a wife. The American dream! And his fantasies revolving around "Goddess," a pinup magazine featuring women with the extraordinary gift of size-shifting—well, those are just fantasies.
Kailani, the beautiful otter princess of a tiny Pacific island, is an unexpected complication. Yet she might be the key. If Russell can sway her to go along with a millionaire's schemes for a hotel on her island, his professorship—his life plan—is assured! What could possibly go wrong?
Goddess is the first short novel from Arilin Thorferra, the founder of "The Giants' Club" and an acclaimed macrophile storyteller.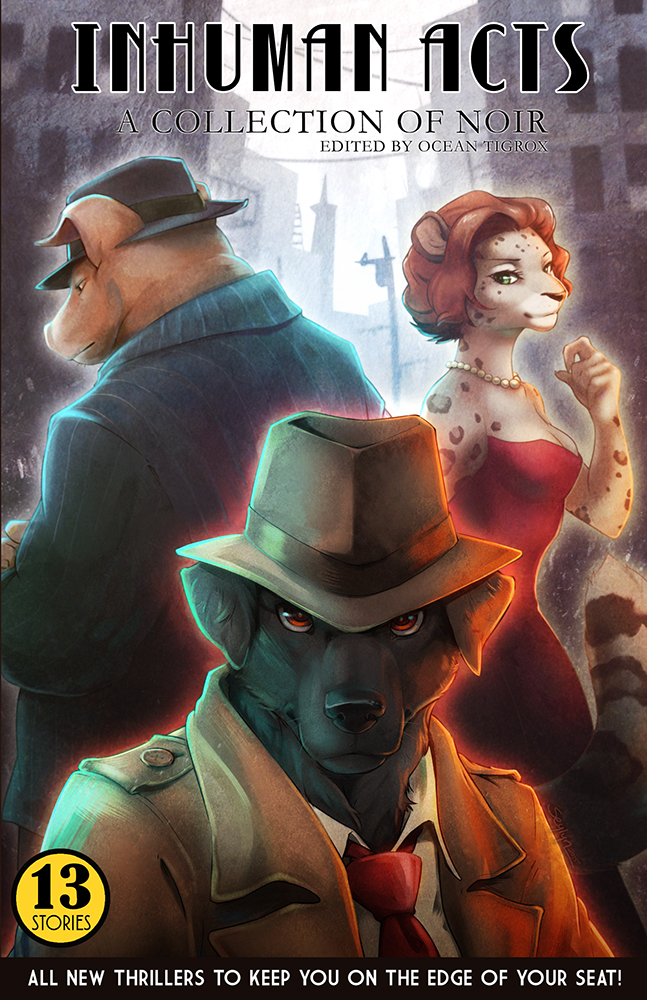 Ocean Tigrox (Ed.)
Inhuman Acts
Kartoniert, 316 Seiten, 19,95 EUR
Cover von Seylyn
Stalking the streets after dusk is risky business, but some tales are only told in the depths of night. Crime pales against the cold, murderous motives of those behind it. Claws and fangs open doors for a twisted soul to find a means to an end. It's a deadly road spiraling downwards when the deeds done are Inhuman Acts.
Explore thirteen anthropomorphic noir stories about betrayal, corruption and deceit from award-winning authors and up-and-coming writers. Pour your favourite whiskey and light up a cigarette as Stanley Rivets, PI shares with you his collection of case files from dim to dark to downright ugly.

Features the following stories:
Muskrat Blues by Ianus Wolf
Fixer by Watts Martin
Danger in the Lumo-Bay by Mary E. Lowd
River City Nights by Tana Simensis
Every Breath Closer by Slip Wolf
Ghosts by Solus Lupus
A Blacker Dog by Huskyteer
Crimson on Copper by Tony Greyfox
Vermin's Vice by T.S. McNally
Scorned by K.C. Alpinus
Bullet Tooth Claw by Marshall L. Moseley
Guardian Angels by Nicholas Hardin
Brooklyn Blackie and the Unappetizing Menu by Bill Kieffer

Andres Cyanni Halden
Plowed
Kartoniert, 214 Seiten, 19,95 EUR, Altersnachweis erforderlich
Cover von Soro
10 Foxes, 10 Farms, Lots of Plowing
A Little Drop of Poison by Andres Cyanni Halden
Academic Fulfillment by Danath
Aspirations by K.M. Hirosaki
Foxtrot by Tym
Irony and Woodwork by Whyte Yoté
Services Rendered by Jeeves
Sticky by D.J. Fahl
The Fox Says Neigh by Ajax B. Coriander
Weekend Pass by Andres Cyanni Halden
Weeping Bear Valley by Ajax B. Coriander
Tarl "Voice" Hoch (Ed.)
Abandoned Places
Kartoniert, 348 Seiten, 19,95 EUR
Cover von Kappy; Innenillustrationen von Silent Ravyn
From stories about being abandoned in the heart of civilization to stories about forced abandonment for the sake of science to how abandoned places affect the mind; the stories in this anthology cover a large range of genres and types of abandoned places.
Each one with their own little piece of personal horror laying among the ruins, ready to strike when you least expect it.
Features the following stories:
Empathy by Rechan
Belief by Bill "Hafoc" Rogers
Stared Too Deeply by T. D. Coltraine
The World Within by John Lynne
Sleepwalking by Adam "Nicodemus" Riggs
All that Glitters by Ianus J. Wolf
One Shot of Happy by Roland Jovaik
Who's To Say by David Ramirez
Prospero by Patrick "Bahumat" Rochefort
Darwin's Future by Taylor Stark
Rainfall by Kandrel
Piping by Tarl "Voice" Hoch
World's Biggest Dragons by Ryan Campbell
Scratch by Ben Goodridge
The Cable by James L. Steele
Under the Mountain by Tonin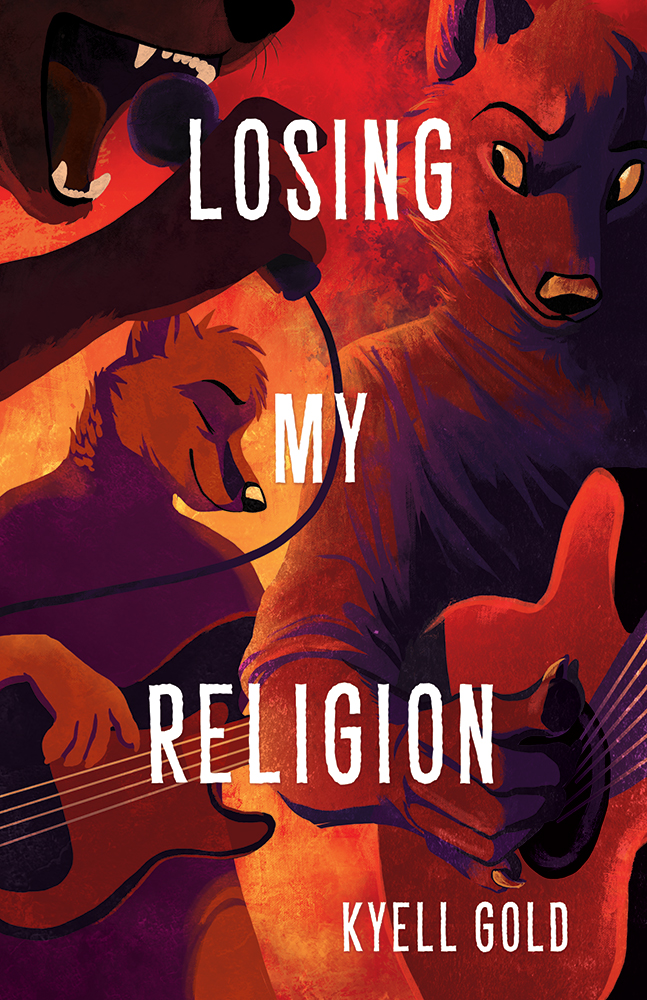 Kyell Gold
Losing My Religion
Kartoniert, 126 Seiten, 9,95 EUR
Cover und Illustrationen von BlackTeagan
Ten tracks recorded live on tour!
Bi Coyote In An R.E.M. Cover Band (Jackson Alley)
The New Kit (Fox) On Bass (Zeb)
Four Guys Living In A Van (Jackson, Matt, Lars, Zeb)
Open Marriage (Jackson)
Ode To Monogamy (Matt, Lars)
You Can't Fly Without A Wingman (Jackson, Matt)
Don't Know Much About Much (Zeb, Jackson)
Hot For Teacher (Zeb, Jackson)
When It All Goes To Hell (Jackson)
Can You Get Where You're Going If You Don't Know The Way? (Jackson, Zeb)
"Losing My Religion" is the story of Jackson Alley, a coyote in an all-male R.E.M. cover band trying his hardest not to grow up. Tours, he feels, are for playing music and taking full advantage of the openness of his marriage, and having a gay wingman usually helped the bisexual coyote get girls. But his wingman is dating their lead singer now, so Jackson's left with the new bassist, an ex-Mormon kit fox named Zeb who might be gay, but knows as little about sex as he does about drinking. So Jackson's going to have to show him the ropes, and hopefully he won't have to learn any pesky life lessons along the way.
Kyell Gold
Dude, Where's My Fox?
Kartoniert, 124 Seiten, 9,95 EUR
Cover und Innenillustrationen von BlackTeagan
Lonnie's slept with exactly two guys in his life: his ex-boyfriend of three years Steven, and the fox he just hooked up with while drunk at a party. The fox didn't leave his name, just his scent in Lonnie's fur—but a scent is enough for a wolf to follow a trail. With his friends Derek the gym wolf and Jeremy the fashionplate rat helping him, Lonnie will learn lessons of dating, sex, and trust, and maybe he'll find the fox whose scent is just right before the clock chimes midnight.
Kyell Gold
The Mysterious Affair of Giles
Kartoniert, 108 Seiten, 9,95 EUR
Cover und Illustrationen von Sara "Caribou" Miles

Post-war life in Giles and Kate St. Clair's manor of Tremontaine, just a couple hours from London, is normally quiet for assistant cook Ellie Stone. When young John St. Clair returns unexpectedly from his American college the same week his father's business partner Martin Trevayn is visiting to conclude a business deal, though, tensions run high. Giles St. Clair takes out some of his stress on Ellie's girlfriend Abby, a housemaid, and in a flare of anger, Ellie wishes the head of the family dead.
The feeling passes quickly, and is soon forgotten. Until the next day, when she hears the gunshot...

"The Mysterious Affair of Giles" is an Agatha Christie-styled murder-mystery and is best read with a cup of tea nearby.
Autographed Copy available. Signiertes Exemplar erhältlich.
Kyell Gold
Winter Games
Kartoniert, 144 Seiten, 9,95 EUR
Cover und Illustrationen von Sabretoothed Ermine
Sierra Snowpaw is just at the Lonnegan Ski Resort looking for a good time. You can trust him. If he doesn't talk a lot about his past, well, a lot of guys have done things they'd rather forget. A lot of guys have been through things they'd rather forget, too.
He's so nice that it isn´t that weird when he asks about some of the other guests. Not like a cop, though, or a Fed-well, okay. Maybe a little like that one guy from that movie. Maybe he's off-duty, settling a score on his own time.
Or maybe he's the guy on the run. Come to think of it, he looks around corners like someone's after him, too. But you know, some guys are chased by nothing more than the ghosts of their past...
Autographed Copy available. Signiertes Exemplar erhältlich.
Kyell G
old
Bridges
Kartoniert, 116 Seiten, 9,95 EUR
Cover und llustrationen von Keovi
Amir wants to meet a guy outside of a bar. Kinzi wants someone who won't cheat on him. Vico just wants a quick lay. In Gateway, when you need to meet someone, there's no-one better than sexy, flirty Hayward to get you just what you want-or at least have a good time trying. But when Hayward himself needs someone, who will be there to help?
Kyell Gold
Science Friction
Kartoniert, 84 Seiten, 9,95 EUR
Cover und llustrationen von Cirrus Kitfox
Meet Vaxy the pine marten. He's a graduate student at sunny Hoffridge U., where he helps Dr. Forrest with teaching, lab work, and getting his pants off whenever things are slow.
Meet Mike the rabbit. He's Vaxy's roommate and not-boyfriend, and he certainly wouldn't have any reason to be jealous of Vaxy sleeping with someone else. If he found out.
Meet Grace the fennec. He's a student, a friend of Vaxy and Mike who holds the firm belief that sex is just sex and shouldn't be mistaken for a relationship.
Yes, it's just another semester at "Hot Fudge U.," where the sex is as hot and easy as a day at the beach. Vaxy and his friends have most of another year to go before they have to worry about that "real world" thing they've heard about.
Autographed Copy available. Signiertes Exemplar erhältlich.
Kyell Gold
The Silver Circle
Kartoniert, 144 Seiten, 11,95 EUR
Cover von Kamui
Valerie is on vacation after a messy divorce leads to a breakdown at work, and despite the warnings of wolves around the upstate New York lake she's visiting, she's determined to relax. Her vacation turns more stressful than her life when she happens upon a man with his throat ripped out, and a young man stumbling away from the scene with an arrow in his side. The young man's handsome features and desperate need overcome her New York City don't-get-involved sense, and she soon finds herself caught between a hunter and his prey.
The hunter insists that the man he's hunting is not just a criminal, but a werewolf. Valerie thinks that's the craziest thing she's ever heard--until she realizes that he might be right.
Kyell Gold
Weasel Presents
Kartoniert, 170 Seiten, 11,95 EUR
Cover von Sara Palmer

Five Stories From the World of Argaea
In "Jherik's Tale," meet a young cougar noble, frustrated with his family, as he finds peace in affection from an unlikely source. Follow everyone's favorite weasel around in "Helfer's Busy Day" as he goes from avoiding trouble to hanging pantsless from a window ledge. Then travel to Helfer's homeland, where a masseur-otter at a busy spa receives unexpected "Birthday Wishes" from the royal party visiting the area.
Peek into the early days of Volle's son in "Yilon's Journal" and find out what happened before "Shadow of the Father." And last, experience an all-new story of Argaea. In "Stolen Away," a young wolf chafing at the duties his father imposes on him falls in with a rat thief and spends a night stealing, running, climbing--and other things. But the big city of Divalia holds many surprises, and some things are not what they seem. Others, unfortunately, are.
Watts Martin
Indigo Rain
Kartoniert, 98 Seiten, 9,95 EUR
Cover und Innenillustrationen von Sabretoothed Ermine
Roulette, a young raccoon dancer, dreams of moving to Ranea's capital city-state and marrying into a better life. But a horrifying encounter plunges her into a momentous political struggle—one that will turn tragically violent unless she and her companions can stop the mysterious Brothers of Atasos.
And as if things weren't getting complicated enough, Roulette may be falling in love with an activist who's as far from her dream husband as she could get...
James L. Steele
Huvek
Kartoniert, 248 Seiten, 19,95 EUR
Humanity has gone to the stars, split and fused the atom, colonized hundreds of worlds, and rejoiced at first contact with alien life. Until the killing started. Man has been at war with the Kesvek for over forty years. Nearly indestructible, relentless in battle, and unwilling to negotiate, the reptiles constantly push forward. Colony after colony has falls, and the human race can do little but hold them back. Humanity knows very little about their enemy.
The Kesvek plan to change that. There is much to learn, and the Kesvek are willing to teach. So long as humans can survive the process, mankind will discover what caused the conflict, and what is required for peace.
Rukis
The Long Road Home
Kartoniert / Softcover, 404 Seiten, 19,95 EUR
Gebunden mit Schutzumschlag / Hardcover with dust jacket, 404 Seiten, 29,95 EUR
Cover und Innenlillustrationen von Rukis
Shivah's journey continues, taking her not only across a country she never truly knew, but soon the oceans, as well. She finds herself journeying to a distant land, but even so far from home, she can't hide from her grief, or the anger eating away at her heart.
New allies and new dangers emerge, but in a foreign land, forced to choose sides in a foreign war, she is surprised to find kinship with many of the strange new people around her. Their lives may have been far apart from hers, but their struggles, she can understand.
Her revenge may be close at hand, but will it give her the peace she's been seeking? Or will it consume her, as the Crow spirit has always promised?
Rukis
Lost on Dark Trails
Kartoniert / Softcover, 314 Seiten, 19,95 EUR
Gebunden mit Schutzumschlag / Hardcover with dust jacket, 314 Seiten, 29,95 EUR

Cover und Innenlillustrationen von Rukis
Following her journey in "Off the Beaten Path", Shivah continues her hunt for the vicious raiders who destroyed her village and have since continued their reign of terror across the country. They are joined by the men of her village who turned on their own people, including her husband.
Continuously haunted by a spirit bent on pushing her down a path of vengeance, Shivah has begun to question whether chasing revenge is worth throwing her life away, or if there's a better future ahead of her, and a chance at real peace… the most elusive quarry of all for a woman whose heart is consumed by grief and anger.
Rukis
Off the Beaten Path
Kartoniert / Softcover, 386 Seiten, 19,95 EUR
Gebunden mit Schutzumschlag / Hardcover with dust jacket, 386 Seiten, 29,95 EUR

Cover und Innenlillustrationen von Rukis
Spending her life beneath the oppressive control of an abusive husband she'd had no choice in marrying was a hard life, but Shivah strove to endure it in order to protect her child.
When her child was slain, and Shivah herself viciously attacked and left for dead, she swore she'd make her husband pay dearly for his greatest mistake...leaving her alive.
She is joined in her hunt by the two men who pulled her from the jaws of death, and a group of lawmen hunting a dangerous band of raiders threatening the countryside. But there may be deeper, more widespread evils hidden in the shadows of the conflict she finds herself a part of.
Rukis
Heretic
Kartoniert, 356 Seiten, 19,95 EUR
Cover und Innenillustrationen von Rukis
Born in poverty, discrimination and fear. . .
The fires that forged Luther throughout his young life were none too kind. Now a man hardened and angered by the trials he´s faced, his many years serving active combat in the navy of his proud nation, and finally the loss of a lover and comrade-in-arms, Luther faces imprisonment and a possible death sentence for the crime of heresy.
The charge. . . loving another man.
Now the desperation of a noble family and the grave situation of one young woman may be his salvation. But to embrace it and pursue a future he has only ever dreamed of, Luther must learn to become a part of their world. . . a world of intrigue, dark secrets, courtesans, religious zealotry and assassination.

Luther is a man accustomed to fighting his way through life. But sometimes, with love and family on the line, a battle waged by the sword can have terrible repercussions. And the secret which threatened to destroy Luther his entire life could land all of those he loves in shackles beside him.
9 years before the events of `Red Lantern´, Luther Denholme´s story begins.

Um die Illustration von Rukis zu vergrößern, auf die rechte Abbildung klicken: Es öffnet sich ein Pop-up-Fenster.
Invisiblewolf
Partners
Kartoniert, 110 Seiten, 9,95 EUR
Tymber is a principal researcher with the Directorate of Advanced Science and Technology. The grey wolf has a lot going for him. He's smart. He's thorough. He's creative. He's a geek. And he has a very vivid imagination.
But none of that has prepared him for his latest assignment: dealing with an overly impulsive, occasionally testy, and very private Technology Enforcement Agent named Spiritwolf.
Hijacked from his routine to support a wolf he only just met and a classified mission he knows next to nothing about, things quickly go from odd to strange to bizarre, especially as he attempts to uncover the one secret he's been expressly told to not investigate: Spiritwolf.
Tymber must find a way to gain the trust of his newfound partner and help him succeed in his mission or everything between them will unravel and lead to failure. And Tymber might never see Spiritwolf again.
Fred Patten (Hg.)
Anthropomorphic Aliens
Kartoniert, 300 Seiten, 19,95 EUR
An Interstellar Anthology.
Anthropomorphic animals have been imagined for as long as stories have been told. This is especially true of science fiction, where the endless possibilities of alien worlds make fertile ground for creativity.
Contained in these pages are stories from across the spectrum of science fiction, ranging from 1950 to 2013, and featuring feathers, fur, and scales. Each creature is a unique blend of humanity and the alien. Childlike or savage, independent or autocratic, they come in all sizes and shapes. Some are recognizable as reflections of humanity, while others are strange and wild creatures that defy description. All of them ask the same question: What kind of creatures will we find when we go to the stars?
Anthropomorphic Aliens ist zur Zeit nicht lieferbar. Wir informieren Sie gern, wenn der Titel Diese E-Mail-Adresse ist gegen Spambots geschützt! JavaScript muss aktiviert werden, damit sie angezeigt werden kann. ist.
Fred Patten (Hg.)
Ursa Major Awards Anthology
Kartoniert, 340 Seiten, 19,95 EUR
A Tenth Anniversary Celebration
Since 2001, the Ursa Major Awards have been awarded every year to the best writers, artists, and creators of anthropomorphic media. Voted on by the community at large, they honor the best in every field of artistic endeavor. This anthology is a celebration of the first ten years of anthropomorphic short fiction, collecting both winners and nominees from across the years to provide readers with a sample of the best authors the furry community has to offer.
So read, enjoy, and then help decide the next winners of this fine award by voting for the next ten years of Ursa Major Awards.
http://www.ursamajorawards.org/
ROAR Volume 6
Kartoniert, ca. 400 Seiten, 19,95 EUR
Lovable scoundrels and scoundrels we love to hate.
From rascals causing harmless mischief to dark lords with evil in their hearts, scoundrels can be found in every world, mundane to fantastical. We fight them, laugh at them, and sometimes root for them.
The twenty-eight stories in ROAR volume 6 explore scoundrels of every stripe, in every walk of life. Read stories from celebrated anthropomorphic authors, award-winning science-fiction and fantasy authors, and talented newcomers to the furry genre!
Contents:
Squonk the Dragon by Pete Butler
Brush and Sniff by mwalimu
Faithful by Marshall L. Moseley
Gerbil 07 by Huskyteer
CSI: Transylvania by Kevin M. Glover
HARD SCRATCHING IN KITTYTOWN by Blake Hutchins
Hold the Moon by Eric M. Witchey
Ernest by Lyn McConchie
Two Crows, Two Wires, and the Moon by Andrew S. Taylor
Ivan and the Black Riders by Kris Schnee
Into the Wind by Rechan
At What Cost by Jeeves the Roo
A City With No Children by James Stegall
Perch by Sarah Doebereiner
The Cat Thief by Laura "Munchkin" Lewis
Food, Feuds and Fake Flora by Ocean Tigrox
Puppy Love by George S. Walker
I Hold My Father's Paws by David D. Levine
0mega by Garrett Marco
Skinned by Kyell Gold
Relics, Rabbits, and Tuscan Reds by Slip Wolf
Shadows of Horses by Phil Geusz
Coyote's Voice by Altivo Overo
Prof Fox by Mark Patrick Lynch
Wolves and Foxes by Amy Fontaine
UNEXPECTED BOUQUETS by Ellen Saunders
Clearance Papers by Fred Patten
Edward Bear and the Very Long Walk by Ken Scholes
ROAR Volume 5
Kartoniert, 326 Seiten, 19,95 EUR
Cover von Rukis
Can you keep a secret? Secrets are made to be broken they say, but what of the consequences? When secrets come to light who profits, who suffers, and who triumphs?
ROAR volume 5 has arrived with a thrilling new set of tales. Fourteen authors have crafted stories exploring and exploiting the secrets held by their characters. When the last page is turned, will there be anything left to reveal? It won't be a secret for long...
FANG Volume 6
Kartoniert, 250 Seiten, 19,95 EUR, Altersnachweis erforderlich
Cover von Mehndi
There is something enchanting about the Victorian era. It was an era of discovery, exploration, and invention both in and out of the bed chambers. Men researched into the depths of the mind, watched each other fall to depravity, and witnessed the birth of inspiration and lust. All while keeping up appearances.
The authors for Fang 6 have explored the many parts of the Victorian world and have carefully crafted a collection to stimulate your senses and desires. So find a fainting couch, relax, and enjoy.
Contents:
Ashes by Slip-Wolf
Inspiration by Whyte Yoté
The Gallant Endeavour by Tym Greene
Initiation by Kyell Gold
Moral Folly by Miriam Curzon
Summoning by Tym Greene
Tithes by Chris "Sparf" Williams
While the Wind Shook the Barley by NightEyes DaySpring
Ashe Valisca (Ed.)
FANG Volume 5
Kartoniert, 256 Seiten, 19,95 EUR, Altersnachweis erforderlich
Cover von AtomicBoyX
Friends are great, enemies are a challenge. But what about those people who come into our lives who can't be so easily classified as one or the other? They can be outright complicated.
Love and hate relationships are a fact of life and sometimes they get steamy. A scorned lover, a psychopathic stalker, meddlesome exes. There's always someone who fits the old saying "Keep your friends close and your enemies closer."
Stories by Whyte Yoté, Ianus J. Wolf, Sorin, Roland Jovaik, NightEyes DaySpring, Zantal, Kandrel and Tarl "Voice" Hoch.

Die älteren Ausgaben von FANG sind ebenfalls bei uns erhältlich (je 19,95 EUR).
Rechan (Ed.)
Taboo
Kartoniert, 320 Seiten, 19,95 EUR, Altersnachweis erforderlich
Cover von Kadath

Teacher and Student
Commander and Private
Rich and Poor
Soldier and Prisoner
Fantasy and Reality
Client and Professional
Life and Death

Every society has taboos, from sacred vows which must never be broken to the limitations of sexual expression. These and more make up thirteen scandalous stories answering the question, "Which line would you cross?"
Taboo is an anthology for an adult audience only and includes the following stories:
"That Red Panda Girl" by Tarl "Voice" Hoch
Tour of Duty by Huskyteer
The Rising of the Moon Over the Atlantic by NightEyes DaySpring
Aid and Comfort by StormKitty
Exit Stage Left by Robert Baird
Odd Man Out by Whyte Yoté
The Joys of Parenting by Roland Jovaik
Promises by Yannarra Cheena
The Dog Star Miracle by Kandrel
Dates by Tony Greyfox
Binding the Heart by Rechan
Complete by H. A. Kirsch
Lessons by Ianus J. Wolf
Scent of Heaven by Tarl "Voice" Hoch
Fred Patten (Ed.)
Five Fortunes
Kartoniert, 416 Seiten, 19,95 EUR
A fortune can be many things.
A fortune is wealth, which you earn through hard work, win by chance, steal by cunning, or lose through tragedy. Good fortune smiles upon some and makes life easy, while ill fortune curses others to walk lonely, bitter roads. A fortune can be your fate foretold with cards, predetermined by the stars, or read in tea leaves and portents.
Here you will find a mix of all such fortunes and the stories of five fates determined by chance or divined by purpose.
One man will remake himself into a rabbit to forge a new life. A lioness will pursue her desire to be a hunter at all costs. A wolf will struggle against her nature, only to find that even counting money can be dangerous. A cat will fall in love with a dog, and both will find that means more than anyone could imagine. And a Caitian will journey across the stars in the hope of escaping the misfortunes of his life.
Each tale explores how a fortune can change a life. How a person might change their destiny. How greed or simple bad luck can change everything. And above all, the lengths some will go to make themselves a new fortune.

Featuring novellas by Phil Geusz, Renee Carter Hall, Watts Martin, Mary E. Lowd, and Bernard Doove.



Callista Skip
Triskelion's Reign
Kartoniert, 294 Seiten, 19,95 EUR, Altersnachweis erforderlich
Mit Illustrationen von Mahsroh
Get into the story behind Triskelion with this novel. Di'Ahla's white walls can't keep out change forever, especially when a Domme from the exotic city of Lithrinn arrives, ready to bring its citizens to their knees.
Tegenar
Don't Call Me Coach
Kartoniert, 206 Seiten, 19,95 EUR
Cover und Innenillustrationen von NuDog

Garth Hood has a PhD in physics, and has applied at labs and universities all over the country for two years. But the only job he's found in that time is as gym coach at a high school, and his bench press got him there, not his education. Angry, but still determined to do his best, Garth throws himself into his new role as weight coach.
But one of his students, a Doberman senior named Evan Silvers, takes Garth by surprise. Evan is aggressive, alluring, and exactly Garth's type. For the sake of his future, Garth resists. But as time goes by, the school pushes more and more on Garth, and his frustration ramps up. Will Garth be able to resist Evan's advances, find a way to make a difference, and break out of his cage?
Tagenar
Exposure
Kartoniert, 112 Seiten, 9,95 EUR
Cover von Kumada Makoto
Gale is a lynx with a big problem.
For years, he's admired the men he finds most attractive from afar. The few times he tried to approach a muscular canine, he finds himself frozen by his insecurities. If only he could find a way to break the ice and get things moving...
Now Gale is about to find out what happens when that introduction gets made for him. He may have been unhappy being hidden, but how will he deal with finding himself exposed?
Tagenar
Jake´s List
Kartoniert, 330 Seiten, 19,95 EUR
Cover von Nudog
Jake has been a weightlifter and a lady's man since he was in middle school. High school is now four years in the past, and Jake has a decent job and a good grip on life. Then while his guard is down, he ends up in bed with another male.
Now Jake is questioning everything he thought he knew about himself. He faces possibilities he never considered, and as he looks back on his life, he begins to wonder if he was ever the rottweiler he assumed he was.
M. Andrew Rudder
The Shadows That Linger
Kartoniert, 314 Seiten, 17,95 EUR
In a world of superpowers, the Protectors defend the world from the Consortium, a group of supervillains bent on destruction and political upheaval. However, when Pariah, the youngest and newest member of the Protectors, saves the life of Puppeteer, the leader of the Consortium, they are drawn together by the single act of kindness into much more than a chance encounter.
While Pariah and Puppeteer's relationship deepens, a new villain emerges, beholden to none and destructive in ways both physical and psychological, who can dredge up the shadows of their pasts and use their memories against them. Loyalties will be tested and lives fundamentally changed when secret identities are on the line and mysterious pasts are involved.
Despite the challenges presented by their growing feelings for each other, the tensions building around them, and a terrifying new threat, the two foxes will do everything they can to uphold their morals and discover how to save the world.
M. Andrew Rudder
All Alone in the Night
Kartoniert, 216 Seiten, 17,95 EUR
Cover by Soro
Cooper Barnes M.D. reached the pinnacle of an obsolete field. A pathologist in a future where all of Earth's infectious diseases have been catalogued, sequenced, and cured, he has been left with no challenges. Until, that is, he is presented with new horizons in the stars as Chief Medical Officer aboard the Frontier, a new breed of faster than light ship set to explore deep space.
Along with his partner, the alien Sykk, he heads into the unknown. He was prepared to fight disease, but more insidious is the emptiness of space and the political machinations of the new species they meet. Embroiled in battles he wanted no part of, despite the presence of his partner he can't help but feel all alone in the night.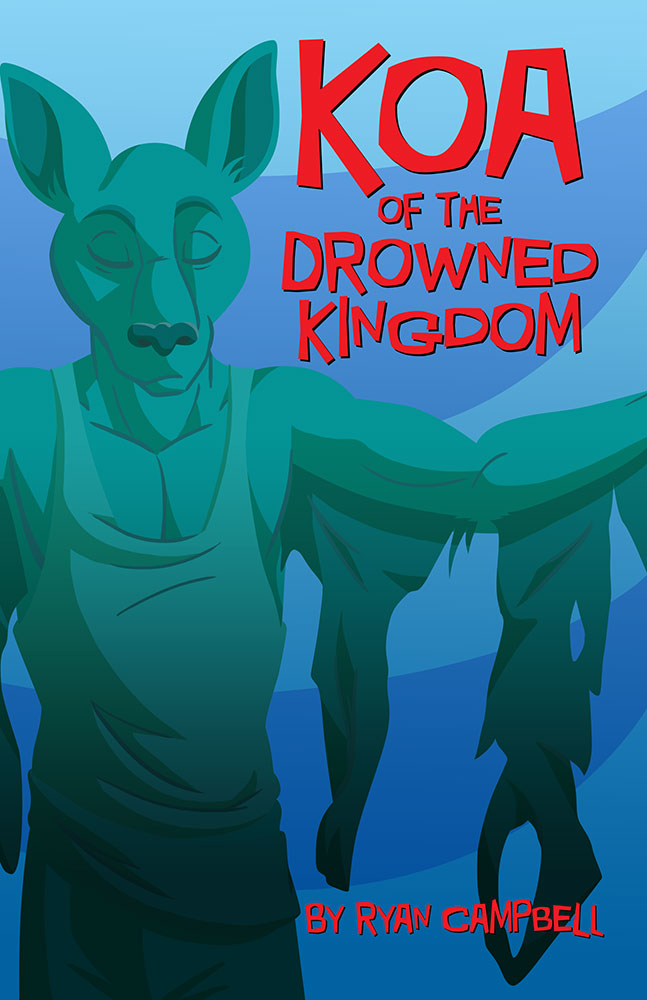 Ryan Campbell
Koa of the Drowned Kingdom
Kartoniert, 156 Seiten, 9,95 EUR
Cover und Illustrationen von Cooner
The Kingdoms: A civilization built in giant mangrove treees, where enchantments are common for the wealthy flying foxes of the upper branches.
When Koa was just a pup, a terrible storm killed his family and left him with shredded wings. Now living with his adopted otter family, Koa falls in love with a bat from the world he lost long ago.
Though he will never belong in a world made for those who can fly, he's willing to brave dark magic and treachery for just one dance.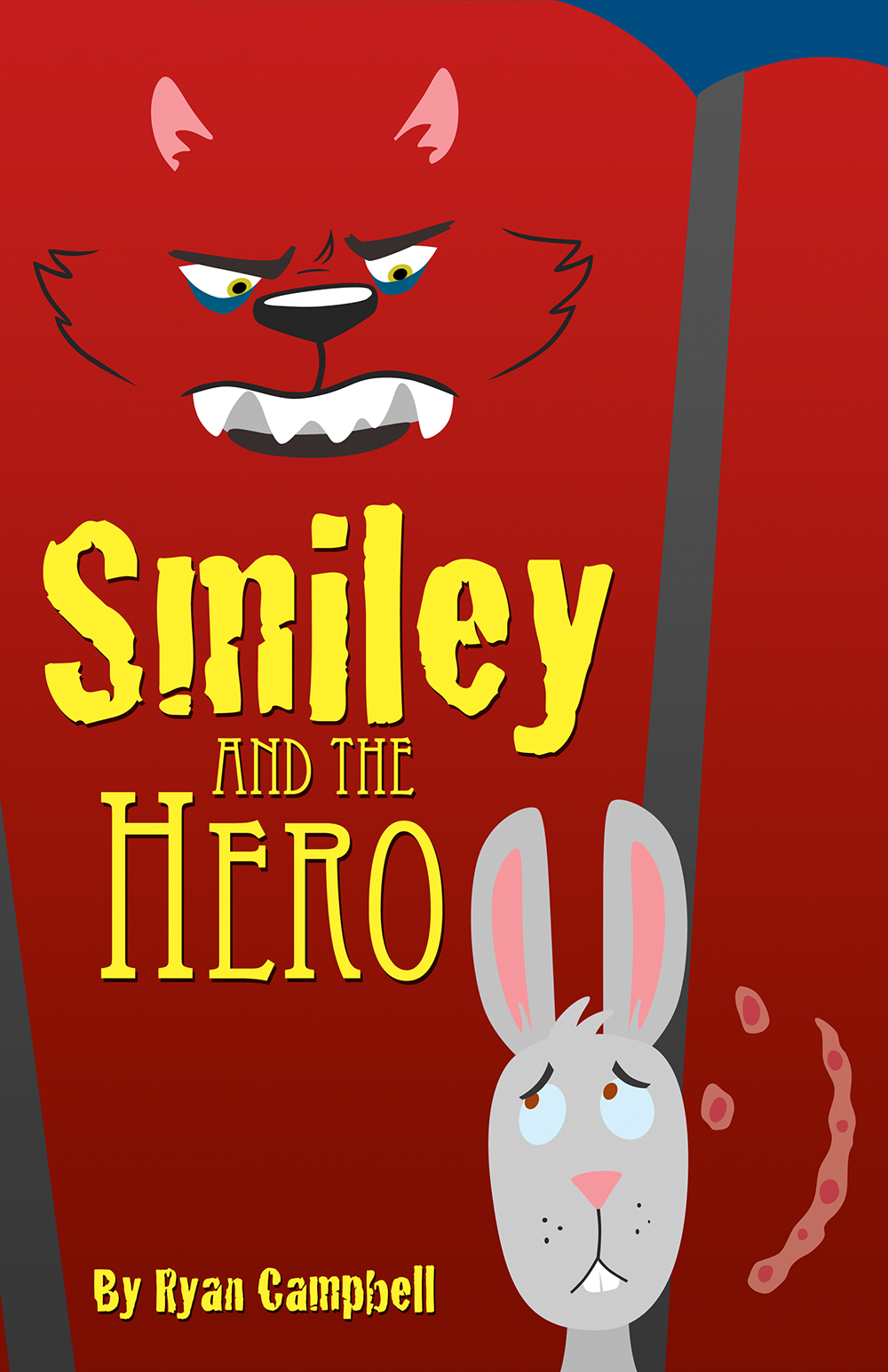 Ryan Campbell
Smiley and the Hero
Kartoniert, 198 Seiten, 9,95 EUR
Cover und Illustrationen von Cooner
San Fernando is a small island port in the tyrannical grip of the giant gangster wolf, Smiley O'Hannigan. Here, barely surviving and on the edge of starvation, there seems to be no future for young Johnny and his mother. But when Johnny finds a key to the back door of Smiley's fortress and treasure vault, he has a chance to change everything. Johnny's always dreamed of being a hero like his father, but he's about to learn that heroism isn't quite as easy--or as simple--as he thought.
Andres Cyanni Halden
All Tied Up In Knotz
Kartoniert, 108 Seiten, 9,95 EUR, Altersnachweis erforderlich
Cover by Soro
Carson really likes meeting guys over Knotz, his favorite smartphone app. He has little patience for conversation and even less for the idea of a relationship. However, after a hot bear quite literally knocks him off his feet, it seems there might be more to life than his job and searching for one night stands.
Roy Lisman
The Jackal Queen
Kartoniert, 142 Seiten, 9,95 EUR
Cover und Innenillustrationen von Kadath
Out of Time. On the Run.
Isaac was none too pleased when his vacation was cut short by a call from his friend Raziel. His mood only grew worse when Raziel magically transported them back in time to ancient Egypt.
Now they have to find a way back home, hopefully without changing history. But the locals think they are deities, which has caught the attention of the temptress pharaoh—the Jackal Queen.
Fred Patten
What Happens Next. An Anthology of Sequels
Kartoniert, 426 Seiten, 19,95 EUR
Cover von Sara Miles
"… and they lived happily ever after. The End."
Do they really? The best stories always leave you wanting more. What
happens to the charismatic characters next? It is hard to believe, after all the adventures they have gone through, that life will be trouble-free for them forever after. Even if they do live happily ever after, what are the details?
What Happens Next is a collection of 11 stories which follow up and expand on the worlds created in previous stories. Listed here are the story name, author and the story universe the tale takes place in:
- Second by M.C.A. Hogarth; Alysha Forrest
- Festival of Vampires by Brock Hoagland; Perissa and Maelith
- False Doctrine by Kevin Frane; Iolite League
- Reflections of Things to Come by Kristin Fontaine; Tales of the Tai-Pan
- Immolation by Michael H. Payne; Cluny and Crocker
- Pick-up at the Hanging Drop by Jenner; Dr. Benjamin Rat
- Blackest Before the Dawn by Elizabeth McCoy; Kintarans
- The Magi Decree by Chuck Melville; Felicia, the Vixen Sorceress
- Game of Fox and Rabbit by Ken Pick; Brigit Bunny on the planet of the Thalendri
- Sibling Rivalry by Kyell Gold; Argaea
- The Monkeytown Raid by Roz Gibson; Jack Salem
Mary E. Lowd
The Necromouser and Other Magical Cats
Kartoniert, 132 Seiten, 9,95 EUR
An angry cat who discovers the techno-mystical ability to raise mice from the dead...
A starving kitten who discovers a secret hidden in the San Francisco bay...
A witch's cat, a scientist's cat, and a cat who recognizes no owner...
In this collection, follow the adventures of the beloved tabby cat Shreddy as he faces off with zombies, ghosts, gryphons, foolhardy dogs, and all sorts of household appliances.
Then meet a series of cats whose stories will take you from heartbreak to joy, showing the magic in our own world through the reflection of a cat's eyes.
"Necromouser" contains four all new stories and five Ursa Major nominated stories, including "Shreddy and the Carnivorous Plant."
Contains the following stories by Mary Lowd:
The Necromouser
Shreddy and the Zomb-dogs
Shreddy and the Silver Egg
Shreddy and the Christmas Ghost
Shreddy and the Dancing Dragon
Shreddy and the Carnivorous Plant
Songs of Fish and Flowers
Katelynn the Mythic Mouser
The Wharf Cat's Mermaid
Magtwilla and the Mouse
Cold Tail and the Eyes
All the Cats of the Rainbow
Mary E. Lowd
In a Dog's World
Kartoniert, 182 Seiten, 9,95 EUR
Cover von Idess
Katasha Blake is a cat surrounded by cats. She loves her littermates, but she's tired of having them in every part of her life. She wants to go to Isleywood College, a prestigious school where most of the students are dogs.
Then Katasha meets Howell, a handsome upperclassman and a dog. What will her family think? Is Howell even interested in a high school cat? All Katasha knows is, she can't wait to leave for college.
Mary E. Lowd
Otters in Space 2.
Jupiter, Deadly
Kartoniert, 228 Seiten, 9,95 EUR
Cover von Doc Marcus
Spies! Jet packs!
And a water-phobic feline surrounded by otters!
IN SPACE!
On her way back to Earth, Kipper the tabby cat finds her plans derailed when hostile vessels attack friendly otter ships orbiting Jupiter. The Jolly Barracuda flies to the rescue, dragging the hapless tabby even farther from home and embroiling her deep in the beginnings of an interplanetary war.
Meanwhile, political turmoil on Earth forces Trudith, the dog goon turned bodyguard, into a serious moral quandary—how far will she go to protect her alpha cat? Soon every cat and dog on Earth is wondering, will a cat be the next president and will Kipper make it home?
Mary E. Lowd
Otters in Space
Kartoniert, 182 Seiten, 9,95 EUR
Cover von Doc Marcus
Humans have left the Earth, and dogs rule. Kipper is an oppressed tabby cat who dreams of a better place where cats are free to run their own lives. When Kipper discovers a secret that might lead her to such a paradise, along with the secret comes trouble— first, Kipper's sister disappears, and, then, she's attacked by a dog goon herself. Kipper's escape takes her on a mad dash to Ecuador and the space elevator, where she catches a ride up to the otter-designed space station. Once in "otter space," Kipper must navigate an uncomfortably watery world to find out what happened to her sister and whether there really is a cat paradise.
A 2010 Ursa Major Award nominee for Best Anthropomorphic Novel.
Kristina Tracer
Beautiful World
Kartoniert, 212 Seiten, 19,95 EUR
Reality redefined in a virtual universe of possibility.
Living people given digital existence in a corporate-owned world.
Love, art, sex and revolution are online and in the air.
A new form of deadly sabotage could tear it all down.
The deadline nears and deletion is at hand...
Kristina Tracer
Bonds of Silver, Bonds of Gold
Kartoniert, 314 Seiten, 19,95 EUR
To save his family from starvation, Stannis of Barony Jazinsk makes the ultimate sacrifice: selling himself into slavery. When he's sold to an envoy from neighboring Barony Deterikh, he's thrust into the middle of a feud twenty years in the making. Rumors of dark alchemy and hints of betrayal threaten to break the fragile peace between the baronies, and Stannis' arrival at the court may be the blow that shatters it. With war drums beating on the horizon, can a lowly pleasure-slave persuade his new owner into preserving the peace?
Kevin Frane

Summerhill
Kartoniert, 286 Seiten, 17,95 EUR

Cover von Kamui
Summerhill is a dog with a problem: he isn't exactly sure who he is. Living alone in a desolate world as its only inhabitant, he has no memories of his previous life-only the tantalizing clue that the answers he seeks may lie with a mysterious woman named Katherine, the hostess on a cruise ship that sails between dimensions.
But Katherine has problems of her own, and if Summerhill wants her help in unlocking the secrets of his past, he'll have to help Katherine deal with hers.
Together, the two will travel to different worlds, different times, and different universes in a journey where the possible and impossible can be tough to separate, and where the rules of reality can change as easily as weather.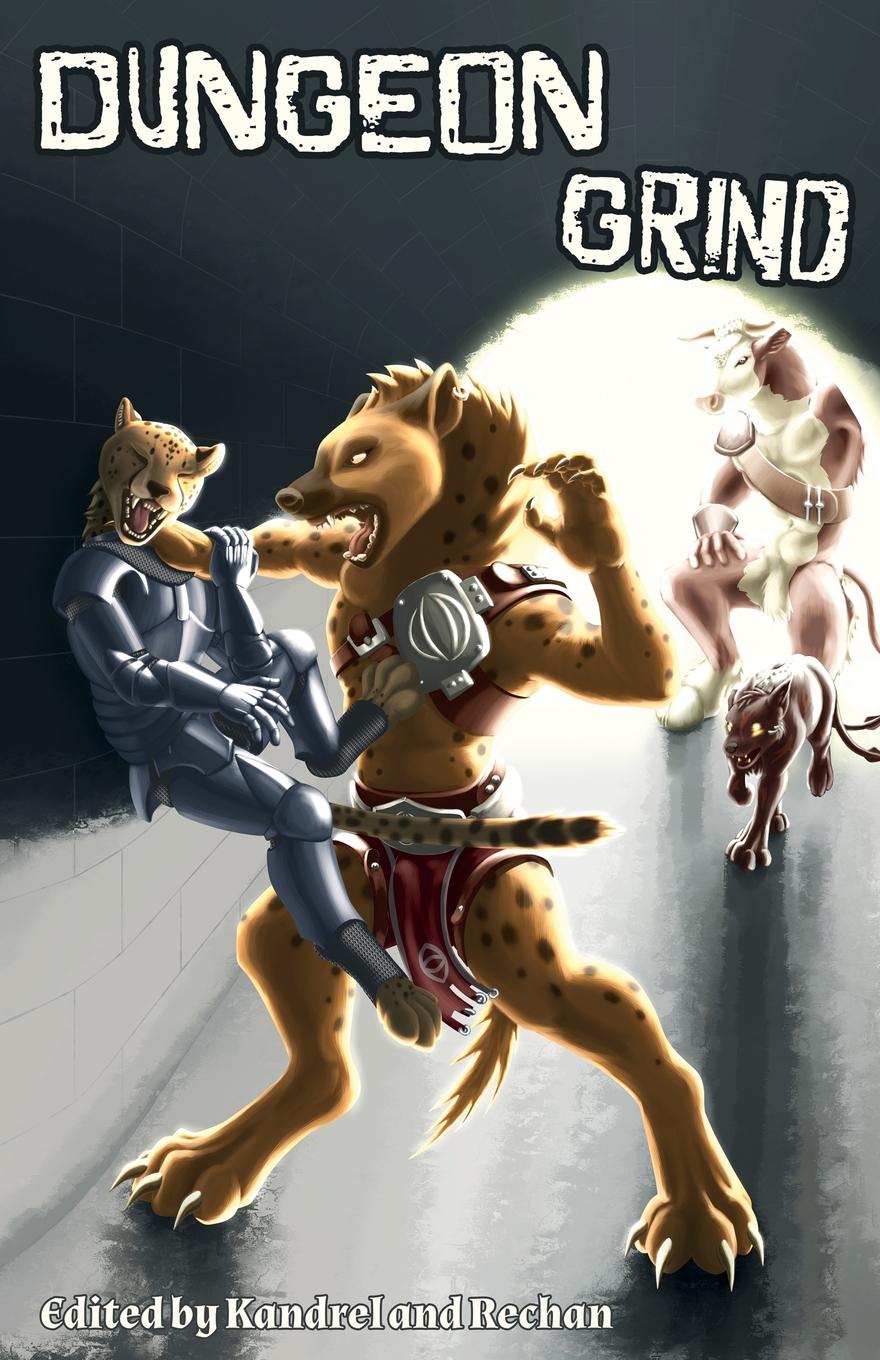 Rechan & Kandrel (Hg.)
Dungeon Grind
Kartoniert, 290 Seiten, 19,95 EUR, Altersnachweis erforderlich
Cover und Illustrationen von Unciaa
Not every adventure goes according to plan, and not every monster deserves to be slain!
Here are the stories of the monsters with their favorite adventurers, uninhibited, unfettered, and unleashed!
Featuring stories by Kandrel, Rechan, Voice, Whyte Yoté and many more, inside are ten tales of medieval mayhem meant to be read by torch light.
Features the following stories:
Blackhorn by Tarl "Voice" Hoch
Fifty Scales of Grey by Sarina Dorie
Forbidden Gnolledge by Marderschaden
Eyes in the Black by Kandrel
Velvet by Rechan
Sighs for the Labyrinth by Slip-Wolf
The Oni and the Fisherman by George Squares
Peryton Mod by Ross Whitlock
The Desert Run by Tym Greene
Dragon Therapy by Whyte Yoté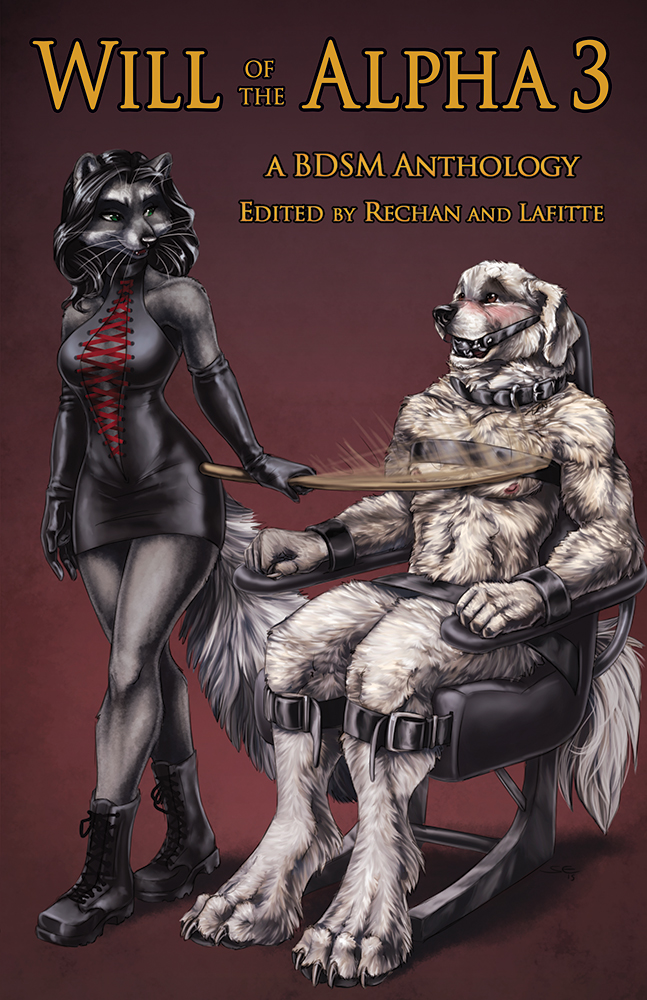 Rechan & Lafitte (Hg.)
Will of the Alpha 3
Kartoniert, 300 Seiten, 19,95 EUR, Altersnachweis erforderlich
Cover von Sabredtoothed Ermine

Bondage and pain are hot for some, a recipe for trouble for others, and a thrill that will make your heart pound either way. These ladies and those that love them are in for a spicy and stinging ride.
Shell is pushed up against the jagged edge of his limits while chasing a mysterious and dark kink. For Hélène and Leonard, a creative block threatens more than just an urgent deadline. Investigating a professional dominatrix has one detective in more binds than one. Can Jun find a way to get rid of the best submissive he's ever had before it's too late?
Here are eleven stories full of tension, passion, and so much heat that even the readers will want a safeword.
Features the following stories:
Plow Mare by Patrick "Bahumat" Rochefort
Dominant Roles by Dark End
Mustard Maloto by Slip-Wolf
The Duck Quacks Twice by Ocean Tigrox
Home at Last by Laura "Munchkin" Lewis
Interface by Ava Herries
The Were-Human by Chastity Chatterley
The Importance of Trust by Tarl "Voice" Hoch
The Light in His Eyes by StormKitty
Fourth and Long by Whyte Yoté
Lucid Daydream by Lafitte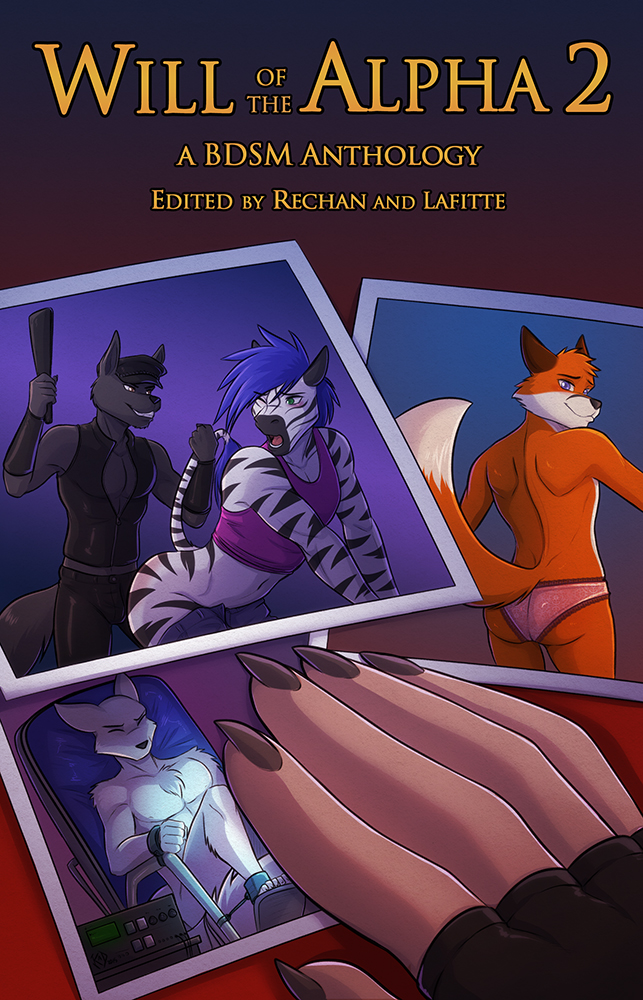 Rechan & Lafitte (Hg.)
Will of the Alpha 2
Kartoniert, 246 Seiten, 19,95 EUR, Altersnachweis erforderlich
Cover von Kadath
Some desires can't be met by normal means. Some itches you need scratched by a ram in leather or while holding a buck's leash. The men of Will of the Alpha share alternative passions.
Tomasz must find the right picture to appease his sensuous tormenter. A restless falcon needs a week's vacation at the farm where he can live as a horse, tack and all. Kai has to learn how to dominate. When his ex discovers a deep secret, Kody is forced to confess before it's too late.
Eleven authors bring you stories tied tight with tension, heat and heart. Sit back, turn the pages and hear the leather creak.
Features the following stories:
Raddlepated by Whyte Yoté
Training Kane by Talon Rihai and Salome Wilde
A Peculiar Case of Symbiosis by Friday Donnelly
A Lesson to be Learned by Tarl "Voice" Hoch
Method Acting by Lafitte
Twins Apart by Ross Whitlock
Teamwork by Tym Greene
Interchangeable Parts by George Squares
Unmanned by Kjorteo Kalante
Chain Link by Slip-Wolf
The Book of Peril by H. A. Kirsch
Rechan & Kandrel (Hg.)
Will of the Alpha
A BDSM Anthology
Kartoniert, 246 Seiten, 19,95 EUR, Altersnachweis erforderlich
Cover von Dbull, Illustrationen von Kadath
11 stories and poems, an anthology of pleasure and pain.
What´s your pleasure? Or do you prefer pain? Everyone has a wild side. Everyone has their kinks, and this is your chance to indulge them. Will of the Alpha is an exploration into the darker side of the bedroom, and each of these stories takes you a step farther down that shadowy road. The authors start out gentle. A leather collar, a little bondage, some light flogging... but they won´t hold back for long and they brought a lot of toys with them. Handcuffs too. Each story in the book is a little darker than the last and at some point you may have to stop. But you won´t want to.
Will of the Alpha is an anthology for an adult audience only and includes stories and poems by Kandrel, Ashe, Ianus J Wolf, Mangi, Sparf, Rechan, Elijah Lapso, Tarl "Voice" Hoch, Nathan Cowan, Whyte Yoté, and H.A. Kirsch.
D.J. Fahl
Save the Day
Kartoniert, 348 Seiten, 19,95 EUR
Cover und lllustrationen von Vince Suzukawa
Jay Carson loves his boyfriend Ted Rodriguez. They´ve been together through the difficult times and the great times, and they´ve grown closer together through it all. They finally have a home together. So why does it seem that Ted is keeping secrets from him? Why does the house always feel so empty?
In a world of superheroes and supervillains, where the incredible can happen every day, the triumphs and tragedies of life can be epic. For Jay and Ted, friendship, love, and home are the most important things in the world, but they must find a way to balance them against the truth of Ted´s life. In the end, will they be able to Save the Day?
FuzzWolf
Trevor's Tricks
Kartoniert, 174 Seiten, 19,95 EUR, Altersnachweis erforderlich
Cover und llustrationen von Lapinbeau
This book collects some of FuzzWolf's stories written from 1999 till 2007 which star his sexy, gay fox character, Trevor.
Enjoy nine of Trevor's most popular adventures and one exclusive new tale, now newly edited and including eight hot illustrations by Lapin Beau.
Rechan
Handcuffs & Lace
Kartoniert, 118 Seiten, 9,95 EUR
Cover von Shawntae Howard, mit einer Illustration von ABlueDeer
Corrections Officer Cheyenne `Vi´ Choate is a coyote with a routine. She brings donuts to work for the squad room, works the late shift in the county jail and goes to church with her family on Sunday. After her divorce, after her injury, routine came easy.
Emerson Kendell is a skunk who just wants to go to relax after a long day. When bad luck lands him in one of Vi´s cells, neither of them would have expected what happens next.
The course of love never did run smooth, but attraction plays by even stranger rules. For two lonely souls, a casual act of kindness becomes something more and each will have to navigate their feelings and decide what it is they are really looking for.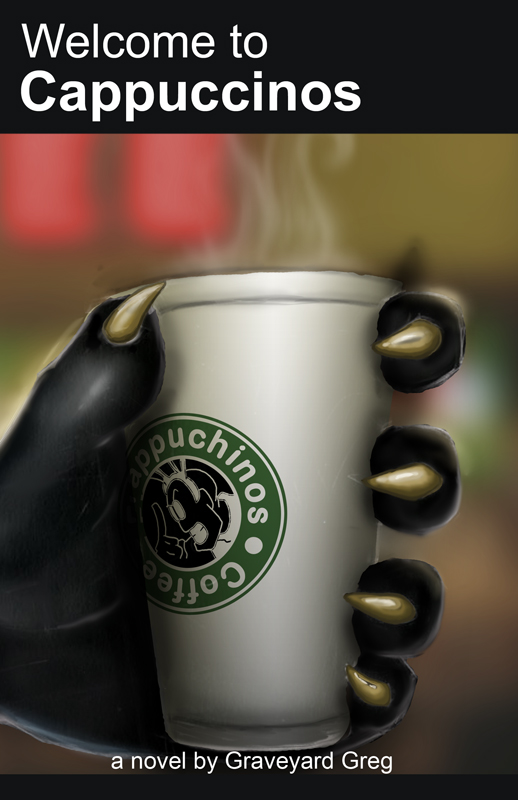 Graveyard Greg
Welcome to Cappuccinos
Kartoniert, 252 Seiten, 19,95 EUR
Cover von Clarence T Hare & Orcawolf, Illustrationen von Mitternacht

Join Venti and his friends as they serve up a triple shot of humor, drama, and love, free of charge!
Written by Graveyard Greg and with art by Mitternacht, WELCOME TO CAPPUCCINOS is a novel written as a series of microfictions, each one a page or two long, following the adventures and love lives of the barista staff and their friends at your neighborhood Cappuccinos Coffee House.
Care for a cup?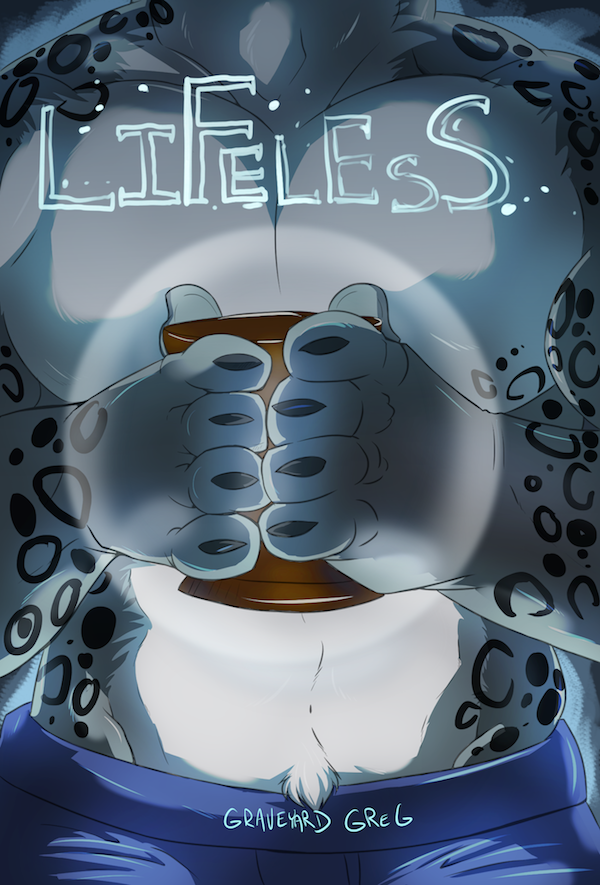 Graveyard Greg
Lifeless
Kartoniert, 106 Seiten, 9,95 EUR
Cover von Donryu

In DEATHLESS, Ivan was running for his life.
In LIFELESS, Ivan is running out of time!
When a friend of Ivan's is kidnapped, the snow leopard is forced to go on a quest to find a legendary artifact. But nothing is as it seems! Can Ivan and his allies find out the truth before it's too late?
Graveyard Greg
Deathless
Kartoniert, 112 Seiten, 9,95 EUR
Cover von Forgewielder, Illustrationen von Genesis and Sudonym
IVAN IS RUNNING FOR HIS LIFE
He wanted to study. That's all he wanted but a phone call from his mother drastically changed everything. Now he's on the run from supernatural forces. Fortunately he's not alone, but can he trust an individual who knows more about fighting monstrous forces than a rational man should? Does he have any choice?
GRAVEYARD GREG writes because his imagination won't leave him alone. He was raised in the Deep South until he escaped with the aid of a duffel bag, the clothes on his back and a few games. He is currently at large in Nevada with his cabana boys and Irish lovers. Do not approach him, as he might be armed with what he considers to be a scathing wit. In reality it's just a weird sense of humor.
Malcolm "Foozzzball" Cross
Dangerous Jade
Kartoniert, 84 Seiten, 9,95 EUR
Cover und llustrationen von MEESH
Never trust a smiling girl when she tells you what her name is. Especially not when she's a furry, one of the exotic mass produced clones of the city of San Iadras. Is her name Jamie? Really? There are a hundred and sixty-eight girls with that exact face, and that exact voice purring out the same little lies.
The truth is, Jade Dixon's desperate to be anyone but herself. She's out for a one-night stand, but her heart's so broken the shards could cut her to pieces. So she'll protect herself from those old hurts however she has to. She'll be Jamie, she'll be Jayden, she'll play any game, so long as she gets one more night of ecstasy.
But Jade's about to find out that she's not the only one who can play games.
Autographed Copy available. Signiertes Exemplar erhältlich.
Teiran
The Hero
Kartoniert, 274 Seiten, 19,95 EUR
Cover von Kamui, Innenillustrationen von Ayame Emaya, Kamui und Satinka
"The Hero" is a gay fantasy novella which follows Flint, a young hyena and lowly innkeeper's servant, who follows his heart and his hopes to find betrayal, heartbreak, companionship, danger and conspiracy as he quests for that finest prize of all: the heart of the one he loves.
Flint rises above himself, with the aid of some unexpected friends, as he faces off against an insidious order of religious zealots and the prejudices of an entire nation in his simple, honest and pure desire for the love of his knight in shining armor, the wolf Aldain, Knight of the Cross.
Despite its modern alternative romance and the bouts of eroticism, this book is at its heart conventional fantasy.
All 11 Illustrations by Ayame Emaya are available in full color as a portfolio for 22,95 12,95 EUR.
Alle 11 Innenillustrationen von Ayame Emaya sind als Portfolio (in Farbe) zum Preis von 22,95 12,95 EUR erhältlich.