Grace Ellis (Text), Kate Leth & Shae Beagle (Zeichnungen)
Moonstruck
Am Lager: Issue #1 - #3 (neu)
Heftformat, 32 Seiten, vollfarbig, in englischer Sprache, 3,99 EUR
A NEW ONGOING SERIES from Lumberjanes creator GRACE ELLIS and talented newcomer SHAE BEAGLE that tells a story of monsters, romance, and magical hijinks! The first arc also includes an additional short story with artist KATE LETH! Fantasy creatures are living typical, unremarkable lives alongside humans, and barista Julie strives to be the most unremarkable of all. Normal job, normal almost-girlfriend, normal...werewolf transformations that happen when she gets upset? Yikes! But all bets are off when she and her centaur best friend Chet find themselves in the middle of a magical conspiracy. Will Julie and Chet be able to save their friends? Is Julie's dogged determination to be normal a lost cause? Who's going to watch the coffee shop while our heroes are out saving the world?? These questions and more will be answered in MOONSTRUCK, coming July from Image Comics.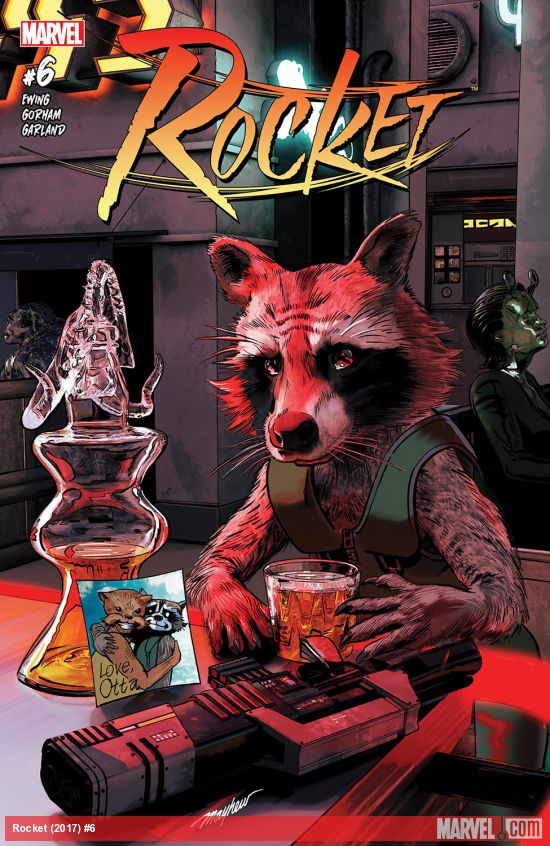 Al Ewing (Text), Adam Gorham (Zeichnungen)
Rocket
Am Lager: Issue #1 - #6 (abgeschlossen)
Heftformat, 22 Seiten, vollfarbig, in englischer Sprache, 3,99 EUR
GET READY FOR A LIFE OF SPACECRIME! It's a dirty universe out there, even when you're not regularly mistaken for trash-foraging vermin. And it's about to get dirtier. He thought his paws were clean, that he was on the up-and-up. But then an old flame swam back into his life, and he was back in the game... the heist game. If you need a safe cracked, a vault busted or a score taken... ask for Rocket. Just don't call him a raccoon.
Preview 1 / Preview 2 / Preview 3

Wir haben auch noch einzelne Ausgabe de Vorgänger-Serien "Rocket Raccoon" 2016 (von Matthew Rosenberg & Jorge Coelho), "Rocket Raccoon and Groot" (von Nick Kocher & Michael Walsh) und "Rocket Raccoon" 2014 (von Skottie Young & Jake Parker).

Izar Lunacek & Nejc Juren (Story) - Izar Lunacek (Zeichnungen)
Animal Noir
Am Lager: Issue #1 - #4 (abgeschlossen)
Heftformat, 32 Seiten, vollfarbig, in englischer Sprache, 3,99 EUR
Anthropomorphic animals like you've never seen them before. It's "Chinatown" meets "Animal Farm" and just like the George Orwell classic Lunacek and Juren's animals are an allegory for today's world.
Private Investigator (and giraffe), Immanuel Diamond – Manny to his friends – has been asked by his uncle – an influential judge — to track down a prey fantasy movie. Adult films in this world are staged hunts where one animal eats another and the judge's wife starred in one that has been hidden (until now).
Giraffe detectives, hippo mob members, prey-obsessed lions, street fighting elephants, and oppressed zebras are just part of this wild animal kingdom.
Ryan Ferrier (Story) & Daniel Bayliss (Zeichnungen)
Kennel Block Blues
Am Lager: Issue #1 - #4 (abgeschlossen)
Heftformat, je 28 Seiten, vollfarbig, in englischer Sprache, je 3,99 EUR
Oliver is a good dog. A family dog. But without warning, he's sentenced to Jackson State Kennel, where he's instantly placed on Death Row with the rest of his fellow inmates, awaiting a lethal appointment if salvation doesn't come. He'll need help escaping the Kennel, but when the stress of prison life builds, he starts escaping reality instead, imagining a fantasy world of cartoon friends. It's time to break out... into a musical number?
Rising star writer Ryan Ferrier ("Sons of Anarchy", "Curb Stomp") and Russ Manning Award-nominated artist Daniel Bayliss ("Mighty Morphin Power Rangers", "Jim Henson's The Storyteller: Dragons") explore loss, mental illness, and the horrors humans and animals alike endure when incarcerated in this inventive, heartfelt journey.
Dan Abnett (Story) & I.N.J. Culbard (Zeichnungen)
Wild's End Vol. 1: First Light
Kartoniert, 160 Seiten, vollfarbig, in englischer Sprache, 19,99 EUR
We love smart takes on classic science-fiction mythos, and who better to take advantage of the iconography of H.G. Wells and "War of the Worlds" than Dan Abnett, one of comics' most renowned sci-fi writers and one of creators responsible for the groundbreaking run on "Guardians of the Galaxy" that inspired the Marvel movie. Paired with I.N.J. Culbard who has made a name for himself with the critically acclaimed adaptation of H.P. Lovecraft's "At the Mountains of Madness", it's a team perfectly built for the visually impactful adventure stories readers love.
Lower Crowchurch is a small English community enjoying the peace of the 1930s, but when the town becomes the victim of an alien invasion, the residents' lives are upended by the harsh realities of life-and-death violence. Led by the town's outsider and retired war veteran, they will have to rally together to uncover the secret of their invaders and hope to fight back.
Collects the complete six-issue miniseries.

Wild's End - The Enemy Within
Am Lager: Issue #1 - #6 (komplett)
Heftformat, je 28 Seiten, vollfarbig, in englischer Sprache, 3,99 EUR
The first "Wild's End" miniseries kept us in constant suspense with its unlikely mash-up of "War of the Worlds" and "The Wind in the Willows". We're holding our collective breaths as author Dan Abnett and illustrator I.N.J. Culbard are set to play with the paranoia and 'enemy amongst us' conspiracy theories prevalent in stories we love like "Invasion of the Body Snatchers" and "The X-Files".
As survivors of the alien invasion of Lower Crowchurch try to cope with what happened to their small town, the military arrives in an attempt to cover up the 'incident.' Town residents are immediately detained, questioned, and treated with suspicion. Clive, Susan, and the others will need to escape imprisonment if they're to get the word out and warn the rest of the world before the aliens return.
Kurt Busiek (Story) & Ben Dewey (Zeichnungen)
The Autumnlands - Tooth & Claw
Am Lager: Issue #5 - #14
Heftformat, je 24 - 48 Seiten, vollfarbig, in englischer Sprache, je 2,99 EUR
The Autumnlands Vol.1 (collects Issue #1 - #6)
Kartoniert, 148 Seiten, vollfarbig, in englischer Sprache, 10,99 EUR
(neu) The Autumnlands Vol.2 (collects Issue #7 - #14)
Kartoniert, 184 Seiten, vollfarbig, in englischer Sprache, 16,99 EUR
Kurt Busiek, Autor von MARVELS und ASTRO CITY, startete bei Image eine Fantasy-Serie mit anthropomorphen Protagonisten. In einer groß angelegten Welt voller fliegender Städte, schuftender Sklaven und alltäglicher Magie entwickelt sich eine spannende Geschichte um die Wiedererweckung des sogenannten Champions. Ein mystisches Wesen, das einst die Magie in die Welt der 17 Städte brachte. Denn die Magie in der Welt schwindet und der Champion ist die letzte Hoffung, diesen Prozess umzukehren...
Farbenfrohe Protagonisten sowie eine Vielzahl an Rassen versammeln sich in "The Autumnlands". Nicht alle Charaktere sind das, was sie auf den ersten Blick scheinen, und werden, ebenso wie Hintergründe und Magieeffekte, atemberaubend von Ben Dewey in Szene gesetzt.
When a secret conclave of wizards brings a legendary hero back from the forgotten past to save their dying world, they get a hero unlike anything they expected, and trigger a crisis none of them may survive. Stranded in the mountains, the Great Champion and the young dog-wizard Dusty discover gods, goats, living statues, oracular crows, and dangerous secrets about the history of the Autumnlands. Secrets that could help them save the world—if they're able to survive.
From New York Times bestselling writer Kurt Busiek (Astro City, Marvels), rising-star artist Benjamin Dewey (I Was the Cat, Tragedy Series), and award-winning colorist Jordie Bellaire, The Autumnlands begins an epic fantasy tale of survival and adventure in a world of beast-wizards, sorcery, brutality, and hope.